Bard College Hosts Screening and Panel Discussion of The US and the Holocaust, a New PBS Documentary Directed by Ken Burns, Lynn Novick, and Sarah Botstein, on September 21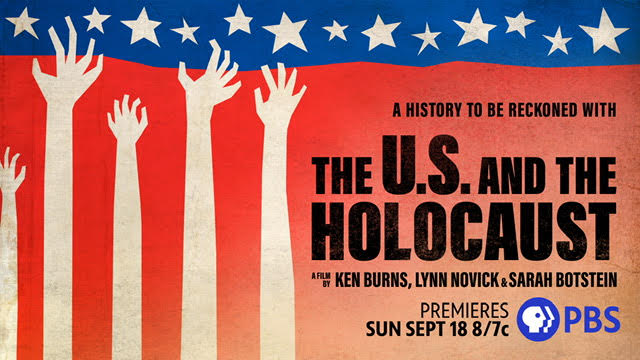 Bard College will host an abridged screening of
The US and the Holocaust
, a new PBS documentary directed and produced by Ken Burns, Lynn Novick, and Sarah Botstein, on September 21. The short 30-minute screening will be followed by a panel discussion with codirector and producer of
The US and the Holocaust
Sarah Botstein
; Dean of Graduate Studies and Associate Professor of History
Christian Ayne Crouch
; Professor of Comparative Literature and Director of the Human Rights Program
Thomas Keenan
; Associate Professor and Patricia Ross Weis '52 Chair in Jewish History and Culture
Cecile E. Kuznitz
; and Charles Ranlett Flint Professor of Humanities
Daniel Mendelsohn
, author of
The Lost: A Search for Six of Six Million
, who shares his family's story in the film. The event will be introduced by President Leon Botstein and followed by an audience Q&A session. This event will be held on
Wednesday, September 21 at 7:30 pm in the Sosnoff Theater at The Fisher Center for the Performing Arts at Bard College
.
It is free and open to the public.
The US and the Holocaust
is a three-part, six-hour series directed by Ken Burns, Lynn Novick and Sarah Botstein, that examines America's response to one of the greatest humanitarian crises of the twentieth century. Americans consider themselves a "nation of immigrants," but as the catastrophe of the Holocaust unfolded in Europe, the United States proved unwilling to open its doors to more than a fraction of the hundreds of thousands of desperate people seeking refuge. Through riveting firsthand testimony of witnesses and survivors who as children endured persecution, violence and flight as their families tried to escape Hitler, this series delves deeply into the tragic human consequences of public indifference, bureaucratic red tape and restrictive quota laws in America. Did the nation fail to live up to its ideals? This is a history to be reckoned with. The series will air September 18, 19 and 20, at 8-10 pm ET (check local listings) on PBS stations, and all three episodes will stream the night of premiere on
PBS.org
and the PBS Video app. To learn more about
The US and the Holocaust
, please visit
pbs.org/kenburns/us-and-the-holocaust/
.
Event sponsors include Bard College's President's Office, Dean of the College Office, Center for Civic Engagement, and Human Rights Program.
Post Date:
09-07-2022