International Education Week: Opening the Doors for Global Civic Exploration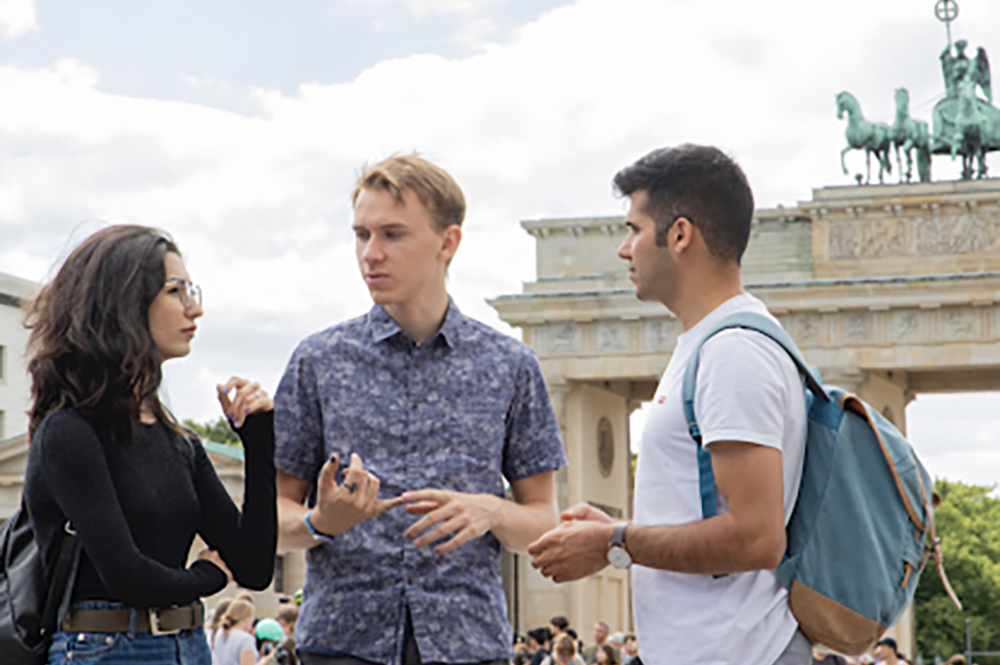 By Sofia Schuhbeck, '26
Studying abroad is one of the most compelling opportunities for civic engagement at Bard College. Not only does studying abroad help us to understand the world beyond our personal histories and lived experiences, but the active engagement with local communities that it offers is a remarkable way to give back to those in need and develop a deeper understanding of systemic problems in the context of another culture.
Jen Murray,
the Dean of International Studies and Director of the Institute for International Liberal Education (IILE) at Bard, has strong foundations in international education. As a first-generation college student, she studied in the UK, visited East and West Berlin, and began teaching English in Eastern Europe after graduating. This experience confirmed the importance of engaging with communities from all around the world. She encourages students to do the same.
"Bard students who are engaged and go abroad bring their passions with them and can more easily connect with like-minded peers abroad," says Murray. "Studying abroad is truly a special experience, as it opens the doors for global civic exploration, while simultaneously fostering interpersonal connection and growth."
Many students think they can't study abroad due to the cost. Fortunately, it's possible to study abroad at a cost that is equal or less than full-time campus housing in Annandale. Bard has approved options in Austria, Bangladesh, Bulgaria, Costa Rica, Colombia, Ecuador, Egypt, France, Germany, Korea, Kyrgyzstan, Japan, Netherlands, South Africa, Vietnam, Zimbabwe, and more. There are endless communities to discover, and with planning and advice, your semester abroad can easily align well with your degree requirements and financial planning.
With International Education Week (IEW) beginning on Monday, November 14, there are countless ways to celebrate the benefits of international education and exchange worldwide. The events planned at Bard are led by three talented Bard alums, Arobi Hanif '18, Lauren Cooke '18, and Abigail Swartvagher '20, who made it all happen.
Lauren Cooke
, a Bard in Berlin alum and the current Berlin Programs Manager for Bard Abroad, spoke about the experiential education she received while studying abroad, "With these experiences, the topics we were discussing in class were no longer contained within the four walls of our classrooms and became tangible."
As Murray stated, "Civic engagement and responsible citizenship are hallmarks of quality study abroad programs, and are available at all of Bard's international partners." Take advantage of study abroad opportunities, and nurture your curious mind! For all students potentially interested in pursuing study abroad, expect ambiguity and practice resilience, as these skills will help you thrive anywhere you end up.
Check out the International Education Week Events below or
see the full schedule here
.
11/14:
Bard International Opportunities Info Table
11/14:
Noodles From Around the World
11/15:
Post-Bard Opps with CDO
11/16:
Study Abroad 101
11/17:
Passport Fair
11/17:
International Dinner at Kline
11/18:
International Fellowships
11/18:
Bard International Opportunities Info Table
Post Date:
11-11-2022