A program supporting leadership development in the context of
hands-on, student-initiated, community engagement projects.
Students in the TLS program propose, design, and implement civic engagement projects based on their own passionate interests. TLS projects are local, national, and international, and may be initiated at any point during a student's college career. The hallmark of a TLS project is the student's ownership of the work. And sometimes, a TLS project grows beyond a student's highest aspirations. Learn about some of these projects below.

TLS Projects at a Glance
Our student leaders have an impact, from Red Hook to the West Bank.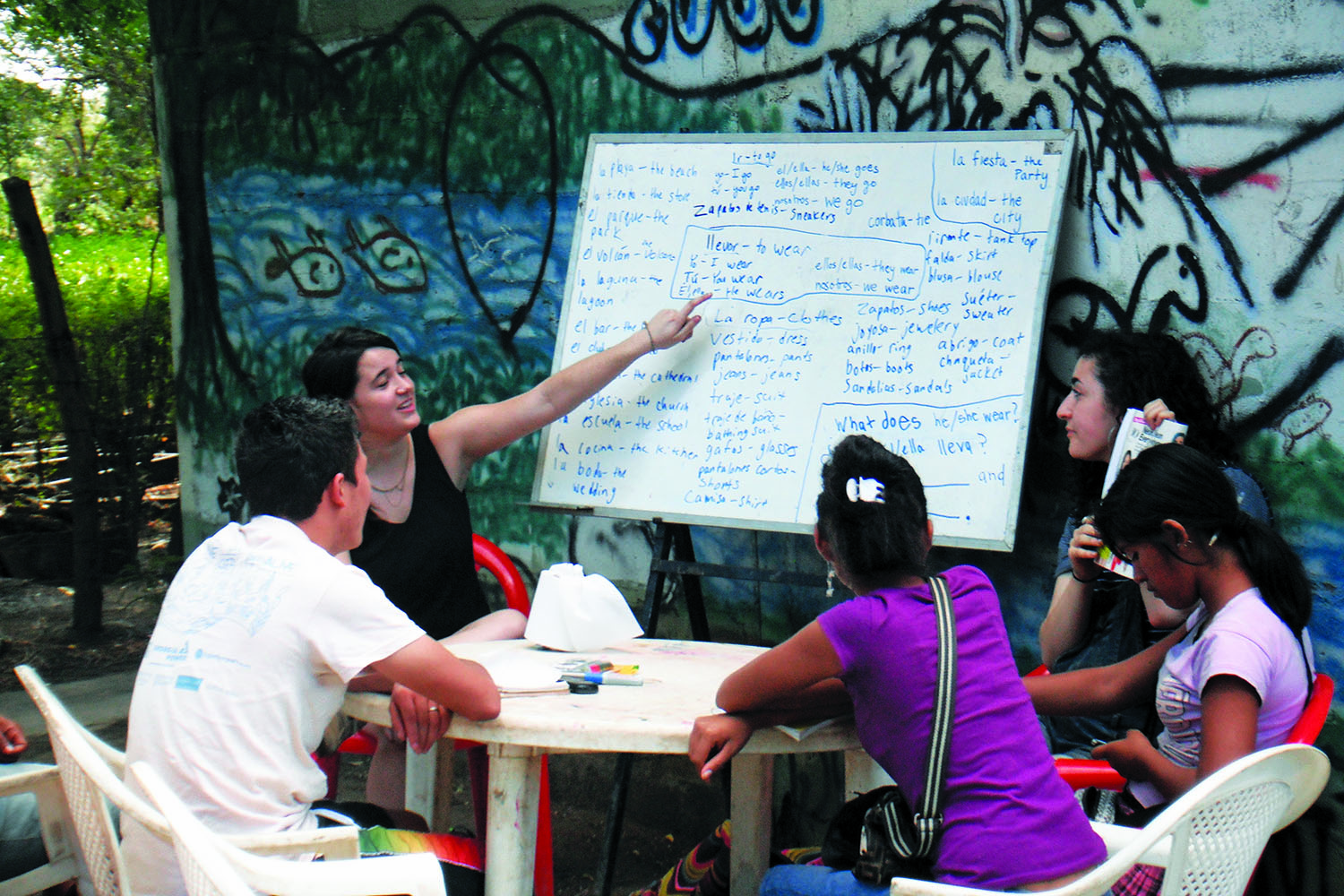 Nicaragua Education Initiative
The Nicaragua Education Initiative facilitates educational projects that empower community members in Chacraseca, a rural town in western Nicaragua.
Bard Palestinian Youth Initiative

Students from across the Bard Network travel to villages in the West Bank to run summer camps, organize community engagement projects, and teach classes in English and writing.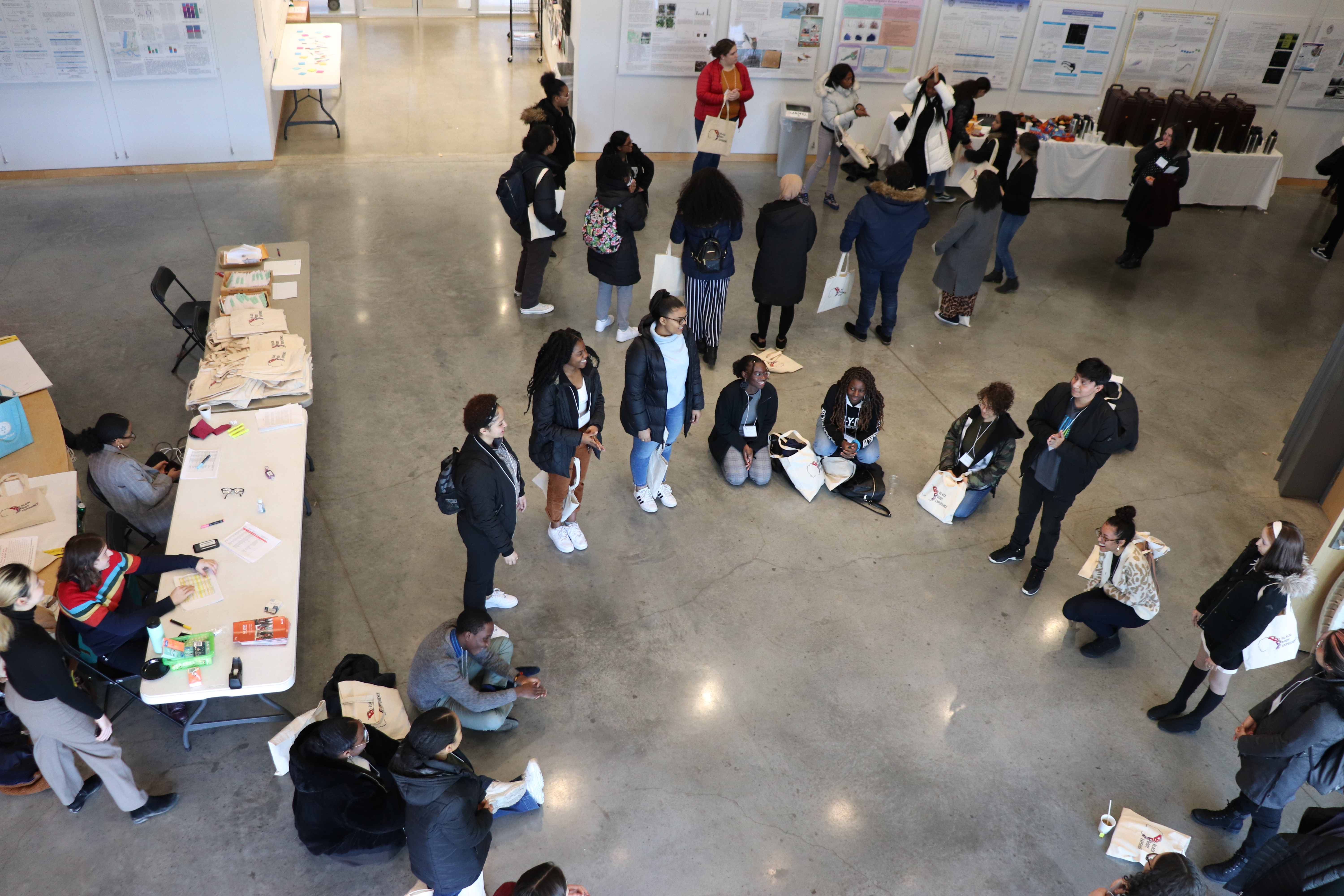 Project Spotlight:
The Black Body Experience
The Black Body Experience Conference was created by Bard alum Tayler Butler in 2014. It was initially created as a conference under the umbrella of Colored Womxn United, a club at Bard created as a safe space for womxn of color. The first conference was created within a week and consisted of student-facilitated workshops. 2017 was the first year that we had all outside speakers who were professionals in their backgrounds. In 2018, the Black Body Experience Council was created in order to ensure that the conference would be sustained for years to come. Although the theme of the conference varies annually, themes typically focus on various issues affecting womxn within communities of color. Such topics include the following: mental health, reproductive rights, social justice, academics, and politics.
Current TLS Projects
See how our students are leading the way

Current TLS Projects
African Roots Center After School Enrichment Program
In partnership with the African Roots Center in Kingston this program provides a space for students within the community beyond regular classroom. We foster skills in communication, team-building and leadership by offering a variety of workshops and enrichment sessions.

Astor Services for Children and Families
Astor Services for Children and Families in Rhinebeck, New York, functions as a school and residential space of rehabilitation, providing mental health services to children who have experienced emotional and/or physical trauma. Bard students become mentors and positive role models for these children, leading a range of activities for two hours each week. Activities are taught in a one-on-one or group setting, and range from theater and cooking to pottery and science projects; the activities depend on the shared interest of each Bard volunteer and the Astor student. After working with the children, we meet for supervision with the art therapist at Astor to discuss the sessions, hold additional trainings, and ask questions. The project serves as an opportunity for children to be part of a safe, fun environment in which they can develop their passions and learn skills. This program helps children who are overcoming obstacles in their lives to feel appreciated, listened to, and acknowledged.

Bard New Orleans Exchange
Since 2005, the Bard New Orleans Exchange has strived to empower New Orleanians working to rebuild their city as a more just, equitable, and sustainable place. An entirely student-run program, the Bard New Orleans project's members have traveled to New Orleans each year since Hurricane Katrina. More than 900 Bard students have worked to meet the needs of local communities through close partnerships with organizations such as the Broadmoor Improvement Association, McDonough 35 High School, Andrew H. Wilson Charter School, and Bard Early College in New Orleans. In the last year we shifted our focus to work on criminal justice reform. We support VOTE, Voice of the Experienced, which is run for and by formerly incarcerated people. We assist them with community outreach, day-to-day operations, research, and legislative advocacy. We have canvassed for city ordinances that we have then seen passed and enacted during the next trip, and recently spent the summer working on a detailed report about incarceration of women and girls. The report will be published by VOTE. We love our VOTE family and look forward to the next chapter of the project.

Bard Palestinian Youth Initiative
The Bard Palestinian Youth Initiative (BPYI) is founded upon the belief that constructive civil engagement, cultural exchange, and education create an environment conducive to self-expression. We are excited to say that BPYI is the only entirely student-run Palestinian engagement program in the United States. We believe deeply in the idea that open dialogue is crucial in areas of conflict. Twice a year, a group of students from Bard College programs in New York, Berlin, Russia, and East Jerusalem travel to Mas'ha, Zawyah, and Bidya, small villages in the West Bank. In partnership with the local communities, we run children's summer camps, organize community engagement projects, teach English and writing classes, and participate in cultural activities. Throughout the year, we cocreate a Language and Thinking–based curriculum with Al-Quds Bard students for our winter and summer programs. L&T, which couples personal expression and rigorous text analysis, is the heart of all Bard student experience, and is making a real difference to students in the West Bank. BPYI also facilitates on-campus events to engage a diversity of students in conversation about the Middle East.

The Black Body Experience Conference
The Black Body Experience Conference is an on-campus event that happens each spring semester. We bring womxn of color and professionals in relevant fields to speak on the year's theme. We invite local community members and students from nearby school districts into safe and contained discussions about race, identity, gender, and the socioeconomics of difference. This year's theme is defining activism specifically through the lens of nonprofits run by womxn of color.

Brothers At Bard
A character development, peer-mediation mentorship program for young men of color from underserved backgrounds, Brothers At Bard (BAB) is currently working with 15 high school students in 9th through 12th grades in Kingston, New York. The Bard members of the project play the role of "big brothers," or mentors, to the young men in the cohort. Brothers at Bard has the unique ability to empower young men by exposing them not only to successful men of color but to men of color currently attending a highly selective four-year college. The mentors run a series of character development workshops and team-building activities with the cohort to promote academic excellence and college readiness. Our most important objective is to create a safe space and brotherhood circle among the students to generate a supportive atmosphere for character and identity development. BAB measures each mentee's growth on a case-by-case basis by tracking improvements in attendance, behavior, and the classroom. As a mentoring program, we make sure our mentees are making positive life choices to ensure they continue to live a healthy, successful life they can define for themselves.

Building Up Hudson
Students in Building Up Hudson tutor and mentor high school students in Hudson, New York. We lead workshops catering to career development, college preparation, and college admissions, personal skill building, and positive personal expression. We also raise funds for Building Up Hudson scholarships for eligible high school seniors who could not otherwise afford college. The Building Up Hudson staff, consisting of the college mentor team, publicity squad, and fund-raising committee, is dedicated to the personal and academic growth of the young scholars we work with. We hope to instill values that will foster confidence for impacting the world.

Community Engagement Arts Project
The Community Engagement Arts Project (CEAP) focuses on community art making that supports the process of finding a personal, creative, and empowering voice of expression through visual arts, movement, theater, music, poetry, and play. CEAP members use the arts to interact with children, teens, and adult community members to explore the emotional content of their lives and overcome personal challenges. Members attend on-campus arts workshops led by professional practitioners and educators to equip themselves with the knowledge and confidence to design and implement their own workshops at sites such as Coarc in Mellenville, New York; Camphill Ghent in Chatham, New York; and the Red Hook (New York) and Tivoli (New York) Public Libraries. In addition to engaging in arts programs with communities outside Bard, CEAP seeks to use the arts to build stronger community at Bard.

Cuerdas para Cali
Cuerdas Para Cali (Strings for Cali) is a group of classically trained musicians who inspire students and celebrate cultural exchange through music education. Each summer, CPC travels to Colombia to work with the Orquesta Sinfónica de Siloé, a youth orchestra based in the Siloé barrio of Cali. The Orquesta de Siloé was founded by Fundación Sidoc to give disadvantaged youth in Siloé the opportunity to study music, by providing them with instruments, education, and performance outlets. CPC's goal is to support the Siloé students in their musical growth, and to have a positive impact throughout their community. The project involves teaching and performing along with intense interpersonal engagement and exchange.

CommunityConnect: Life, Learning, and Language
CommunityConnect's Life, Learning, and Language program provides a local support network for immigrant families in the forms of English as a Second Language (ESL) tutoring, mentorship, and family advocacy. For legal support, CommunityConnect provides informational sessions on individual rights, translation services, and a sanctuary for undocumented students and their families threatened by deportation. In the classroom, the group connects tutors from Bard College and surrounding schools to ESL students for biweekly tutoring sessions. Using an original pedagogy created by our community coordinator, Laura Selicaro, tutors meet individually (at close to a 1:1 relationship) with ESL students for homework support, language-building exercises, and mentorship.

Earth's Tomorrow Foundation
The Earth's Tomorrow Foundation works with K–12 students by teaching them to become environmentally conscious through the use of hands-on sustainability projects. These projects encourage students to become innovative thinkers as they tackle some of the world's leading environmental issues, such as water disparities across the nation, pollution, and global warming.

Educational Outreach Initiative
Educational Outreach Initiative (EOI) creates unique educational experiences for local community members through events that present academic subjects from creative and engaging perspectives. Using art making and imaginative methodologies, EOI pushes the limits of traditional and nontraditional subject areas.

Girls Who Code
Our project utilizes the resources of the Girls Who Code organization and exposes young women to the magic of computer science. Though the field of computer science is growing dramatically, there remains a clear disconnect between the world of computer science and the discouraging message young women receive regarding their capabilities for pursuing computer science careers. In our program young women explore programming not as a foreign world but as a skill they can fully acquire and develop. We empower young women to realize that they are capable of solving problems within their communities and the world at large through computer science. Though we focus on computer science, this project gives young women the confidence that they can pursue computer science or any other of the many STEM fields.

MAGPIES: Math and Girls plus Inspiration Equals Success
MAGPIES is a program to help 5th-9th grade girls to develop an interest in math. Online workshops are offered monthly. Women are extremely underrepresented in mathematics despite scoring average to above average on math tests, so our goal is to inspire the next generation of girls to forge their way in the math world. We provide a safe and supportive learning environment that encourages these students to pursue their mathematical interests. The program also introduces undergraduate students to teaching and creating lesson plans.

Me In Foundation
The Me In Foundation is an organization that enables underrepresented youth from low-income communities to be the writers of their own stories. Through year-round programming, students immerse themselves in a variety of artistic disciplines that challenge them to view themselves in a world with endless possibilities.

Musical Mentorship Initiative
The Musical Mentorship Initiative (MMI) is designed to support local communities while simultaneously allowing college students to develop mentorship skills. MMI is meant to enable students from a wide variety of backgrounds and experiences to explore instrumental guidance - primarily to students who are unable to afford private lessons offered by professional organizations and instructors.

Nicaragua Education Initiative
The Nicaragua Education Initiative facilitates educational projects that empower community members in Chacraseca, a rural town in western Nicaragua. For the past 15 years, Bard students have traveled to Chacraseca for three weeks in January and live with host families there. The initiative has evolved from hurricane relief to sustainable education. We provide English, science, and math lessons to community members, ranging from age 5 to adult. We also implement art projects as a means of encouraging creative expression. We maintain a presence in Chacraseca throughout the year by funding a number of academic scholarships. While our project provides community members with eclectic lessons, it also fosters a valuable educational and multicultural exchange. The Nicaragua Education Initiative values learning both inside and outside of the classroom. The connections and relationships we build cannot be learned at a desk, and this multicultural exchange widens the perspectives of each individual involved in the project.

The Old Gym
The Old Gym is Bard's only student-run theater. Centrally located on the Annandale campus, it is a converted gymnasium that now functions as a black-box space with all the amenities of a fine amateur theater. We focus on presenting student work to showcase the abundance of creativity and talent at Bard. The Old Gym's mission is to provide a safe, multipurpose space for anyone (dancers, actors, directors, musicians, photographers, visual artists, filmmakers; both majors and non-majors) to create radical, visionary work and share that work with the Bard community. We have several annual events including several theater festivals, a haunted house, and the Black History Month Gala.

Ramapo for Children Project
The Ramapo for Children TLS project connects the Bard community with an organization located in Rhinebeck, New York, that provides training, services, and programs for individuals with special needs and the people who surround and educate them. Bard students engage with a transition-to-independence program for young adults, school group retreats, monthly teen leadership programs, weekend events, and a 250-child summer camp. The Ramapo for Children TLS project works collaboratively with the CCE on Science Night Out and MLK Day of Engagement events.

Recovery Gardens
The Recovery Gardens works in partnership with Samadhi Recovery Center which supports recovery and healing from addiction. Bard students engage with clients by working together to plant, care for and harvest vegetables in 4 raised bed gardens.

Red Hook English as a Second Language Center
The Red Hook English as a Second Language (ESL) Center is a biweekly ESL class in which nonnative English speakers work with Bard students in a one-on-one relationship. Originally started to address migrant workers' needs to learn English—in order to advocate for themselves and become part of the Hudson Valley community—the center has opened its doors to other students while maintaining migrants from Latin America as the core of our student population. As leaders, we seek to create a comfortable learning environment for community members who might feel isolated by limited English proficiency, while allowing Bard students the opportunity to build relationships with members of our community who may otherwise be overlooked.

Sister2Sister
Sister2Sister is a program in partnership with Kingston High School in Kingston, New York, that connects high school–age girls with Bard College mentors to promote unity, self-confidence, and a sense of support through the arts. In addition, weekly discussion groups are held to target ways in which the students can prepare for college and life beyond high school. This includes field trips to colleges in the area. Sister2Sister has recently expanded to other high schools, specifically within the Bard network, by hosting conferences for young women at the Bard High School Early Colleges. Sister2Sister hopes to become a national program, creating a sisterhood throughout the globe
Aim High
Some TLS Projects have grown into permanent institutional initiatives.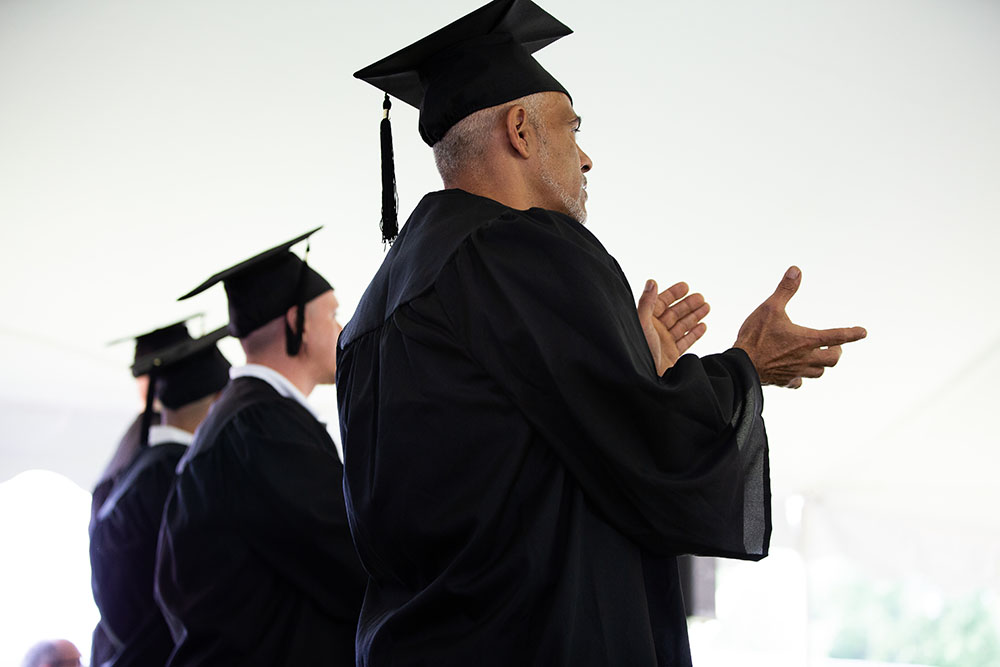 Bard Prison Initiative
The Bard Prison Initiative (BPI) works to redefine the availability, affordability, and expectations typically associated with higher education in America.
Original content with a local focus, and the mission of informing, educating, and entertaining Spanish speakers of the region.

Bard Early College in New Orleans (BECNO) engages bright, intellectually curious students through a tuition-free, immersive liberal arts curriculum.
View Past Projects
Academic Advancement Program
The Academic Advancement program mentors students from Hudson through the college application process.Past Project Leader(s):
Cesia Minemann

Activist Training Conference
We have organized this conference to bring together college activists from around the region to gather and figure out how to create or improve our networking systems in an effort to strengthen our community and make us more effective in our struggles.The Activist Training Conference will take place at Bard College September 24-26, 2004.Past Project Leader(s):
Josh Klein-Kuhn

Albany High Theatre Outreach
Albany High Theatre Outreach (AHTO) is a mentoring program that connects Albany High School theater-makers to Bard College theater-makers. Together we work on performances that tour elementary and middle schools throughout Albany and touch on intimate situations such as bullying, home life, and self-image. Allowing students to write and direct allows this experience to be student-centered in content and structure. AHTO builds community through the exploration of personal identity and its shifting definition over time. Bard mentors provide additional emotional and academic support to the existing successful program at Albany High.

Astor Alternative Music Education Project
The Astor Alternative Education Project fills an important void in the Astor Day Treatment Center's student curriculum--the void of music. Once a month Bard students are invited to Astor's "music day" in which Bard students construct a music class such as show and tell with an instrument, found-object orchestras, group sing-a-longs, lessons in blues history or tutorials in sound recording.Bard students have help in brainstorming and class planning; transportation is provided. This important program provides Astor students with a much-needed exposure to music within their academic setting. Music can be a therapeutic, positive force in these at-risk children lives.Past Project Leader(s):
Allison Cekala
Allegra Chapman

Astor Home for Children Theater Group
The project offers the opportunity for children at the Astor Home to experience the joys of theater. The Astor Home functions as a school and a space of rehabilitation, providing mental health services to children in New York. Once a week, Bard students teach a theater class to a group of children at the home. The classes vary, from improvisation to writing personal monologues. The project serves as an opportunity for children to be part of a safe, fun environment in which they can enjoy being themselves and also learn. This program helps children who are overcoming obstacles in their lives to feel appreciated, listened to, and acknowledged.Past Project Leader(s):
Serena Accomazzi
Hallie Greenberg
Helena Wippick

AstOrigiNal Theatre at Astor
OrigiNal theatre focuses on nurturing the ideas and impulses of children at the Astor Home in Rhinebeck by creating performance-based art. The children are given projects that allow them to develop and improve the important skills of observation, evaluation, and action and put them in situations where collaboration is inevitable.Past Project Leader(s):
Gaia Filicori
David Homan
Vinnie Taubner
Alyson Voynick

Avenida de los Artistas International Art Exhibit
This international art show took place at Bard College in February of 1999.Past Project Leader(s):
Valerie Wolff

AWARE: Hudson Valley / TLS-BPI Liaison
Normally when people graduate from college, the world is a realm of infinite possibilities. What happens when incarcerated persons graduate from college with an indefinite sentence within a correctional facility? AWARE: Hudson Valley is a project that wishes to answer this question by bridging the gap between the Trustee Leader Scholar Program and the Bard Prison Initiative (BPI). AWARE: Hudson Valley is dedicated to helping BPI alums facilitate their own community service-oriented projects within the prison. Our goal is to do all of the legwork from the outside such as fundraising and researching, so that BPI alums can realize these TLS projects. This program will allow graduated inmates to continue to be supported by the college and will also allow them to continue to be engaged in their academic, creative, and social action endeavors.Past Project Leader(s):
Mariah Ernst
Carolyn Lazard
Nick Shapiro
Genya Shimkin
Anne Vachon

Ballistic Missile Defense System: Geopolitical Implications of Militarizing Space Lecture
Arms specialists, David Denoon and William Hartung came to Bard for a debate about the implications of militarizing space. The talk was moderated by James Chace.Past Project Leader(s):
Raimondo Chiari

Bard Art in New York City
Past Project Leader(s):
Ramy Hemeid

Bard Branches Community Center
The Bard Branches Community Center is a comprehensive after-school and community engagement project. We provide tutoring, mentoring, and creative education programs for middle school students in Germantown. Bard Branches engages a number of other Bard TLS projects and clubs in its mission to provide alternative creative education programs to students who otherwise wouldn't have access to after-school education opportunities. In addition to our work in the schools, we organize community events to connect Bard students with local families, and a summer program on the Bard campus.
Past Project Leader(s):
Sylvia Estes
Sammy Lagville-Graham
Gaby Philo
Jesse Weiss

Bard Buddies
Bard Buddies is a project that links Bard students to adults with developmental disabilities, such as mental retardation. We serve adults living in two different communities: Triform and Arc Apartments. Triform is a residential community located in Hudson, NY; Art Apartments is an assisted-living home in Saugerties, NY. Bard Buddies brings volunteers to both communities to facilitate art projects and other activities with the residents.Past Project Leader(s):
Allison Cekala
Lara Georgieff
Megan Kerins
Pat Murtagh
Kendra Rubinfeld
Rachel Zwell

Bard Builds
BardBuilds was founded on the belief that physical structures can have an immense impact on the quality of an individual's or community's life. We work with communities on and off campus to democratize the design and construction processes of spaces that affect them. This project gives Bard students interested in urban planning and architecture the opportunity to step outside of the classroom and engage practically with theories they've learned, while providing local organizations with help they need. Students interested in architecture work with members of Bard's faculty and staff to improve the infrastructure on campus and give voice to student needs. Those interested in urban planning work with the planning office of the City of Kingston, New York, to develop a master plan for the city for 2025. Students interested in sustainable living work with the Long Spoon Collective in Saugerties, New York, to further develop the off-grid housing and farming community. The work includes designing models and drawing sketches, constructing "tiny" homes, collecting data on zoning laws and city components, mapping (drafting and digital), writing grants, and community organizing. Student leaders organize on-campus workshops to train other students in these practical skills so that they approach our local communities with specific planning and design skills.
Past Project Leader(s):
Shireen Khan
Nicolas Shannon
Lia Soorenian
Miranda West

Bard Cheerleading Squad
Past Project Leader(s):
Jared Goodman

Bard College Community Garden
Since 1997, the Community Garden has been a haven for agricultural enthusiasts from Bard and beyond. During the growing season, people from the College and surrounding communities meet in the garden for potluck suppers and work parties, helping to maintain the garden's abundant fruits, vegetables, and flowers. The garden is a favorite year-round gathering spot for students: a place for conversation, campfires, and drumming. Over the last few years we rebuilt the benches and constructed a hay shed. Next we're going to attempt an outdoor brick oven. There is always work to do and everyone is encouraged to participate in every aspect of the garden.Past Project Leader(s):
Andrea Davis
Sarah Earle
Amy Foster
Jenny Fowler
Nathan Gandrud
Josh Klein-Kuhn
Samuel Lucey
Paul Marienthal
Antonia Perez
James Spreuwenberg-Stewart

Bard College Health Initiative
The Bard College Health Initiative (BCHI) is a collective of highly motivated health-vigilant premedical undergraduates at Bard, representing a diverse range of disciplines from Human Rights to Literature.Drawing from the appreciable resources of our campus, BCHI is eager to mobilize financial resources and personnel in the advent of a local health initiative, entailing the advocacy, administration, and implementation of primary, preventative, oral,and behavioral healthcare for underserved and excluded populations, especially those ineligible for federal health insurance.Past Project Leader(s):
Ran Tao

Bard Food Initiative
Our goal of developing local food culture through outreach programs and school-wide food service reform is not only our priority as consumers but also is our duty as responsible citizens. The Bard Food Initiative will lay the foundation for an institutionalized local and organic food service infrastructure that will work with the Hudson Valley's vast farming community to raise the bar for what it means to eat in a new, sustainable society. We, the students of Bard College, choose to embrace a piece of the worldwide community-based agriculture movement and commit to building our awareness of the impact our methods of food production have on our health, our society, and our future.Student Leader: Carter Vanderbilt, Past Project Leader(s):
Carter Vanderbilt

Bard Health Initiative
The Bard Health Initiative is a collective of highly motivated, health-vigilant undergraduates who represent a diverse range of academic disciplines. Drawing from the appreciable resources of the College, BHI is eager to mobilize financial resources and personnel to promote local health initiatives, entailing the advocacy, administration, and implementation of primary, preventative, oral, and behavioral health care for underserved and excluded populations, especially those ineligible for health insurance.Past Project Leader(s):
Nick Shapiro

Bard High School Early College Play/Mentoring Program
Past Project Leader(s):
Dumaine Williams

Bard Inner College
The Bard Inner College works to create student-led workshops that augment Bard's regular offerings. Present and future workshops include Puppetmaking, Israeli Folk Dancing, Fire Spinning, Ceramic Bowl Making, Didgeree Doo Making/playing.Past Project Leader(s):
April Howard
Dan Zinder

Bard Jo-Wo-Liech Project
This project compiles and distributes musical recordings made by men living in the Kakuma Refugee Camp in northern Kenya. To date, more than 600 traditional Sudanese melodies and songs have been recorded. An album of this music will be sold to Sudanese living in the African diaspora in the West. All proceeds from album sales will be distributed back into the Kakuma Refugee Camp.Past Project Leader(s):
David Martin


Bard Math Circle
The Bard Math Circle is an enrichment program for upper elementary, middle, and high school students; families; and teachers. Our main programs are monthly library Math Circle events in Kingston and Tivoli, New York; competitions and prep sessions hosted at Bard College; a weeklong summer day program; and a Rubik's Cube Club. We expose students to math from beyond their school curriculum, foster interaction between students and Bard undergraduate volunteers, and build enthusiasm for further study. Learn more at: bardmathcircle.org.


Bard Model United Nations Initiative
The Bard Model United Nations Initiative (BMUNI) strives to assist in the establishment, development, organization, and education of Model United Nations (MUN) teams in the Hudson Valley region. BMUNI works closely with students and faculty at Red Hook High School, where students meet on a regular basis to learn how to write foreign–policy position papers, research and discuss international current affairs, and become confident public speakers. BMUNI runs an annual Model United Nations conference at Bard College, BardMUNC. BardMUNC is run collaboratively by Bard students, Bard-affiliated students, and Red Hook High School students. Teams attend conferences and engage in an expansive discourse with hundreds of other schools, drafting resolutions to solve the world's most pressing international crises. BMUNI aspires to increase knowledge regarding the international community and aid in the development of academic and social skills of participating youth.Past Project Leader(s):
Templeton Kay
Jason Toney

Bard Nepal Leprosy Project
The Bard Nepal Leprosy Project is dedicated to the global efforts of eradicating the ancient yet curable disease of leprosy. We participate by supporting an eco-village in Kathmandu, Nepal, where people suffering from leprosy seek refuge and medical attention. This eco-village, the Kevin Rohan Memorial Eco-Foundation (KRMEF), serves not only as a place for lepers to recover but also supports a vibrant community of conscientious thinkers and activists. Buildings have low environmental impact. Solar cookers are used to prepare meals, organic gardens take the place of empty government lots, Waldorf-trained teachers fill the run-down schools, jewelry from soap nuts and other handicrafts are carefully made by people with leprosy, and a clinic provides free biomedical and alternative treatments for the whole community. Members of our group have been to Nepal to work at the KRMEF. We have helped to build an orphanage with eco-architecture methods (using glass bottles and a mix of mud and clay); we have also established a village library. A main focus was collecting books from institutions in Kathmandu, finishing the eco-building, and making the furniture for the library by working with a local carpenter. The Bard Leprosy Relief Project primarily operates from afar. Students sell handicrafts made by lepers from the eco-village on campus to raise funds as well as educate fellow students about leprosy and its implications in Nepal. Education events held by the Bard Leprosy Relief Project awaken Bard members to the reality that leprosy still exists in the world, and that creative ways to eradicate it also exist.
Visit the Bard Leprosy Relief Project Blog Donate to this Project Now!
Past Project Leader(s):
Daniela Anderson
Akshita Bhanjdeo
Vitor Carvalho

Bard Permaculture Initiative
The Bard Permaculture Initiative educates Bard students and the local community about Permaculture, a regenerative system of design to meet human needs, and implements Permaculture projects. We do this by offering workshops on and around campus and by initiating collaborative projects from building to gardening. This project is important and useful because it seeks to reimagine an approach to meeting human needs that regenerates the ecosystem and rebuilds the health of our planet rather than destroying it. By unlinking destructive and harmful practices from meeting our needs, we can begin to see and create a more just and sustainable world.Past Project Leader(s):
Anya Raskin

Bard Prison Initiative Volunteers
The Bard Prison Initiative (BPI) creates the opportunity for incarcerated men and women to earn a Bard College degree while serving their sentences. Current Bard undergraduates support BPI by assisting professors, tutoring inmates on GED test preparation, and leading precollege programs. Undergraduate volunteers also offer a creative writing workshop at Beacon Women's Correctional Facility. The creative writing workshop explores the art of poetry, memoir, and fiction writing by critically examining selected texts and working on personal writing projects. An anthology of the participants' final written work is published at the end of each year. BPI and undergraduate volunteers collaborate to sponsor speakers, workshops, and conferences in order to spread campus awareness of the issues of mass incarceration in the United States.
Past Project Leader(s):
Lilly Bechtel
Sofia Bonami
Emily Brown
Cinta Conti-Cook
BPI Volunteer Coordinator
Alix Diaconis
Sascha Goldhor
Liz Howort
Maida Ives
Max Kenner
Moriah Mudd-Kelly
Jessica Neptune
Leo Santoso
Katy Schneider
Marissa Unger
Sarah Weiner

Bard Science Outreach
Bard Science Outreach (BSO) is a student-run project that promotes science education among middle school and high school students in the Hudson Valley. Every year we invite students from Linden Avenue Middle School in Red Hook, New York, to our campus to perform scientific experiments; we also mentor them in their independent science projects that later go on to be science fair projects. BSO works with Bard faculty and students to host and judge the middle school science fair, coaching students for county- and state-level fairs down the line. BSO helps develop community projects, which go on to become part of the Citizen Science program at Bard. We cooperate with other TLS projects such as the Bard Math Circle, and are always looking for ways to collaborate with other groups and events in the community. We welcome involvement from both science majors and people who are simply interested in science.

Bard Space Program
Past Project Leader(s):
Jamie O'Shea

Bard's Senegalese Sewing and Sustainability Project
Bard students support the technical education of young women in Sandiara, Senegal, West Africa. A lack of resources makes it impossible for most of the young women in the village to continue their academic lives. Left to fend for themselves, they frequently are sent to cities to become maids, working shifts of 12 to 14 hours per day. In this Bard program, young women learn a trade. For now we concentrate on sewing and tailoring. In addition to technical skills, the women receive education about financial management, marketing, and gender equality. Participating young women prepare to take their products to market and earn real incomes. This project was brought to the attention of Bard students by residents of the village, and is operated with the assistance of a village resident who began sewing instruction for young women in her home. The need for instruction, equipment, and training far exceeds the limited resources and working space available. We hope to construct a small, sturdy factory building in the village that will provide a dependable opportunity for skill building and work.Past Project Leader(s):
Julia Tinney

Bard-Aid
Bard-Aid held parties on campus to raise money for international hot spots.Past Project Leader(s):
Kerry Chance
Rachel Mahoney
Peter Malcolm

Bard-Hudson Mentoring Program
The Bard-Hudson Mentoring Program provides positive options for at-risk youth in Hudson, New York through mentoring relationships with undergraduate volunteers from Bard College. Currently, eight pairs of mentors and mentees meet regularly to play games, eat in the dining commons, dance, research topics on the internet, and share the story of their lives with each other.Past Project Leader(s):
Marie Brown
Sascha Goldhor
Diana Vazquez

Bard-Sri Lanka Project
The Bard-Sri Lanka Program (BSAP) is a collaborative venture between Bard College students and the Institute for International Liberal Education and seeks to foster a mutually supportive educational network for the benefit of Bard and Sri Lankan communities. BSAP hopes to create student scholarships and endowed professorships for deserving individuals in Sri Lanka who have shown commitment to bettering circumstances within their country. As well, BSAP seeks to introduce the Bard community to issues concerning Sri Lankan culture and society. Exchange programs, conferences and events will all be part of the BSAP objective to create links for international dialogue.Past Project Leader(s):
Jennifer Lemanski

BbAaRrDd
Past Project Leader(s):
Ben Dangl

Bhopal Memory Project
The 1984 gas disaster in Bhopal, India, one of the world's worst disasters, has been almost forgotten. The Bhopal Memory Project creates educational resources and opportunities about "that night," its aftermath, and the continuing problems caused by the accident and the corporation responsible. The project organizes lectures, reaches out to schools and textbook companies, demonstrates publicly, lends its extensive Bhopal photograph exhibition, and regularly updates its website. The project has a strong relationship with the Sambhavna Medical Trust, a Bhopal medical clinic that treats survivors without charge. The project has begun to document other chemical contamination disasters under the No More Bhopals Project. The goal is to make the concept of a "Bhopal" accepted and discussed, by providing readings and firsthand resources to academic circles and the world at large.Past Project Leader(s):
Adriene Raff Corwin

Brookwood
The Brookwood project is a math-teaching program in a youth incarceration facility for young men in Hudson, New York. We teach Math 90 (basic mathematical problems) and Math 100 (basic algebra). These are the remedial math courses for inmates in the college-bound program. The young men must pass these classes in order to take college-level math courses. In the future, we will expand our work beyond the college program to the many other academic programs within the facility.


Campus Pub
Dan Hudak worked with Bard administrators to navigate some of the issues that were at stake in creating a campus pub similar to Adolph's (a.k.a. "Down the Road"), which had once been a lively meeting place for students and faculty alike. While the pub has yet to be created (the obstacles--economic and logistical--to such a task were numerous), essential groundwork may have been laid for future efforts.Past Project Leader(s):
Daniel Hudak

CARE (Clone Axl Rose Emmediately)
"We had scientists, martyrs, diehard fans, even women volunteering to breast feed baby Axl," said Ben Dangl, who was of the opinion that the success of this project should not be judged in the conventional sense of the term.Past Project Leader(s):
Ben Dangl

Care Bears
Care Bears is a group of students on campus who are dedicated to caring for their fellow students. When a student on campus gets sick they can call Care Bears and within twenty-four hours they will have a free care package delivered to their door filled with chicken soup, water, cough drops, tissues, and more.Past Project Leader(s):
Kendra Rubinfeld

Chiapas Solidarity Project
Past Project Leader(s):
Anna Mojallali

Child to Child Nepal
Bard students travel to Nepal in the summer to work with novice monks at the Manjushri Di Chen Buddhist Learning Center in Pharping Valley. They teach English to novice monks (ages 5–13), and along with the elder novices (ages 14-19), administer a program based on Bard's Language and Thinking Program to the wider community. Although Bard students work primarily with children at the Buddhist Learning Center, they also accompany the elder novice monks to a nearby public school to assist in teaching the children there.
Student Leader: Isabella Wilcher
Past Project Leader(s):
Isabella Wilcher

Children's Gardening Program
Free hands-on workshops in agriculture and ecology were offered for kids, ages 3-12, in the Bard College Community Garden. Kids investigated insects, food webs, and parts of plants while contributing to the maintenance of the garden.Past Project Leader(s):
Amy Foster

Coalition for Peruvian Relief (CPR)
The mission of Bard Coalition for Peru's Relief (CPR) is to successfully raise awareness and assist people in need in developing countries. Our first major project will be focusing on the South American Country of Peru and the victims of a 7.9 earthquake. The destruction has affected more than 80,000 people in this country. We will work hard to gather support and aid for the victims of the devastation. Our group will have a structured student body that consists of a secretary, treasurer, publicist, as well as artistic and coordinating committees. Our ultimate goal is to assemble a team of Bard College students and teachers to go to Peru and help to begin to rebuild a small village. We would also travel with Spanish speaking American doctors and a construction team from Boston. The actions we take will benefit the people of Peru as well as impacting students and faculty. Upon returning to campus we will share our experiences and hopefully continue to expand the awareness of our mission statement to the Bard College community.Past Project Leader(s):
Carlos Apostle

Colón Music Festival
The Colón Music Festival, in the small city of San Juan de Colón in the Venezuelan mountains, brings music to people who do not easily access live classical performance. Seventeen students from The Bard College Conservatory of Music and Longy School of Music of Bard College traveled to Venezuela for two weeks in August 2012, to teach music lessons and master classes and give concerts for the community. Bard students participated in the creation of the Colón Music Festival Orchestra, with 100 young student musicians from states across Venezuela. The first Colón Music Festival reached 300 young people and large enthusiastic audiences; performances with the Venezuelan students were broadcast in Táchira state. The governor of Táchira publicly honored the Bard students as distinguished visitors for their extraordinary service in Venezuela.
Past Project Leader(s):
Leonardo Pineda

Comic Book Workshops
Ian Ally-Seals offered comic book writing and drawing workshops taught by him and guest artists in the Red Hook School District and on the Bard campus.Past Project Leader(s):
Ian Ally-Seals

Community Arts Outreach (CAO)
Community Arts Outreach is a project dedicated to the strengthening of community through the arts and a strengthening of the arts through community. It seeks to explore the part of a working community that can only be accessed through the arts and the part of art that can only be accessed through community.Past Project Leader(s):
Philip Berezney

Community Service Survey
This was a survey to gauge student interest in participating in community service activities.Past Project Leader(s):
Dumaine Williams

Contra Dance Club
Monica Elkinton organized contra dances on campus and transportation off campus dances for the Bard Community.Past Project Leader(s):
Monica Elkinton

Conversations on Class
The project explores class and the social roles created by class by generating dialogue among Bard students. We discuss the way class operates on campus and within the community. We combine talk with acts of civic engagement that include working at a local soup kitchen and arranging "Midnight Runs" where we help organize churches, schools, and other groups to gather supplies (food, toiletries, and the like) and transport the items to New York City, where they are distributed to those in need. Midnight Run's mission statement says it doesn't propose a solution to homelessness, but aims to "forge a bond between the housed and the homeless." And finally—because mass incarceration has become a nexus for the manifestation of class conflict in the United States—we hope to assist prisoners with recording CDs and DVDs of bedtime stories for their children. The goal is for students to think thoughtfully and critically about class in an open and engaged way by approaching the matter from various modes of involvement.Past Project Leader(s):
Corinna Cape
Emily Parker

Conversations on Education
Conversations on Education is an experiential workshop series that focuses on topics in education. This is a student-led program for students who want to pursue careers in education. Students plan and deliver classes to each other on a wide range of topics, including the impact of race on standardized test scores, expressive arts and creative movement, and how to travel cheaply. Students critique each other, and in so doing, create a rich learning environment for people interested in pursuing educational careers.Past Project Leader(s):
Hannah Cole-Chu
Lauren Dunn
Tom Hillman
Ariana Jostad-Laswell
Anna Mojallali
Rachel Schragis
Alison Sickler

Diamondz Hudson Young Women's Group
Diamondz, a women's health and sexuality project meets once a week at Time & Space Limited in Hudson, NY. The project creates a safe space where young women can engage with information related to health and sexuality, through discussion and arts activities.Past Project Leader(s):
Emma Alabaster

Disabilities Awareness
Using curriculum developed by the New york State Commission on Quality of Care, Bard sttudent volunteers led disabilities awareness workshops for fifth grade students at Mill Road Elementary School in Red Hook. The fifth grade students participated in in a statewide art contest on disabilities awareness at the culmination of the workshops.Past Project Leader(s):
Colin Harte

Dorm Composting
The Dorm Composting Project is a program dedicated to reducing the overall waste output of Bard dorms. Each week, a collection team from the Bard Environmental Resources Department (BERD) places a fresh compost bucket (see the "A Composter's Guide" section for an example) in the kitchen of each dorm and in the downstairs hallway of each Village Suite dorm. The previous week's compost is brought to the compost bins in the Community Garden where it undergoes a naturally facilitated process of decomposition into fertile soil. Thus, the nutrients from food waste produced in Bard's dorms are recycled back into the Bard community.Now entering its fourth year, Dorm Composting has been fully incorporated into BERD, including paid positions for the collectors. Thus it has been institutionalized within the college.Past Project Leader(s):
Dan Zinder

Dream To Achieve
Dream To Achieve (DTA) works with at-risk and under resourced students in the Hudson and Kingston communities to build a culture of academic achievement and college aspiration and success. DTA connects area youth with Bard College students, faculty, and resources on campus through engaging activities, educational opportunities, mentoring relationships,
A Brothers At Bard session with high school students in Kingston, New York.Past Project Leader(s):
Shaun Gills
Harry Johnson

Eco-Discoverers
Eco-Discoverers is a hands-on education program for 8-12 year olds in the historic and ecologically diverse area of the Hudson Valley. One of the main goals of the program is to expose the children to the ecology, history and community of our local surroundings. Eco-Discoverers provides a unique learning experience unrestricted by the formality of the classroom. For the past two years participants have enjoyed exploring new outdoor settings and ideas in the company of their peers.Past Project Leader(s):
Annie Christian
Ariana Jostad-Laswell
Daniel Katz
Max Leer
Rachel Sanders
Camden Segal
Hannah Sunshine
Sascha Woolfe

Englishman
The Englishman was a student publication that published everything but news. Past Project Leader(s):
Ben Dangl

Ephemer
Ephemer is an art/photography/audio/writing/happening magazine. Unlike traditional magazines that collect submissions over a period of several months, the content for Ephemer is generated during a series of art happenings on campus.Past Project Leader(s):
Gabe Shalom

First Year Poetry Publication
This project culminated in a publication featuring solely creative writing by first year students at Bard College.Past Project Leader(s):
Ben Dangl
Prakirati Satasut

Flying Fiddlers
The Flying Fiddlers and MuslicLink Partnership Program is a non-profit youth music group that aims to encourage and support a lifelong love of music. Bard students participate in the program in Kingston, New York. There, they act as private lesson instructors for two students throughout at least one academic year, teaching 45 minute lessons on violin, viola, cello, and bass. Most of the students are involved in the Ulster All County Orchestra, and play for the New York State School Music Association (NYSSMA) in April. The work also culminates in multiple performances throughout the Dutchess and Ulster Counties, including yearly performances here, on Bard campus.Past Project Leader(s):
Sarah Casman Perkins
Tina Doran
Jennifer Holup
Sophia Mak

Free Press
Prior to the founding of te Free Press student newspaper, this campus had been a one-horse town. The Free Press offered an alternative to the long-standing Bard Observer. It also sought to raise the standards by which journalism was practiced on campus. The Free Press lives on.Past Project Leader(s):
Kerry Chance
Rafi Rom
Vincent Valdmanis

Free Voices: a womyn's journal
Published once a semester, Free Voices featured creative non-fiction writing and black and white artwork.Past Project Leader(s):
Gretchen Hogue

Germantown College Mentoring
The Germantown College Mentoring Program is a comprehensive mentoring project aimed to help juniors and seniors at Germantown High School through the college application process. Bard College mentors serve as a resource and support system for students who are considering pursuing higher education.Past Project Leader(s):
Anar Parikh

Germantown Tutoring Program
College students work closely with teachers in third-, fifth-, and sixth-grade classrooms at the Germantown Central School District. Tutoring in a variety of subjects with diverse teachers allows Bard students to engage in classrooms of all shapes and sizes. The Bard Germantown project is ideal for students interested in teaching because it allows students to observe and engage in elementary school classrooms on a weekly basis. For the Germantown students, our project presents an opportunity to build relationships with college students who can inspire them to be interested in higher education and learning. Germantown, New York, is an area with an incredible amount of need. The high drop-out rate at the school motivates Bard students to lend a hand to the local community. The impassioned and hardworking teachers also continually motivate us to give our time to the amazing Germantown kids.Past Project Leader(s):
Tomas Guerrero
Julia Jardine
Caity Simon
Jessica Wiseman

Ghana Project
The Ghana Project was founded in August of 2001 to provide opportunities for cross-cultural exchange through service work and raise money for projects that benefit the community of Tetakope, Ghana.The first two years of the project were focused on raising funds to build a junior secondary school in Tetakope. During January of 2003, a group of eight Bard student volunteers and one Bard administrator traveled to Ghana to work hand in hand with contractors and community volunteers in the construction of the school while also learning about the local Ewe culture. Upon return to the US, this group made presentations to Mid-Hudson schools and sponsored a photo exhibit chronicling their trip.The Ghana Project is completed their return trip to Tetakope in January 2005. They built a community library and school building.Past Project Leader(s):
Sophia Friedson-Ridenour
Ryan Schwarz
Elizabeth Williams

Girls Group
Girls Group is an afterschool empowerment program for middle schoolers—an age that is tough for most people, and especially so for young women. Every week, we spend an hour after school with a group of seventh graders at their middle school in Kingston, New York. This mentorship program seeks to empower young women through education, discussion of issues relevant to this age group, and introduction of positive role models. By working together and talking about our own stories, we foster a safe environment for girls to share and learn from each other's experiences, growing self-esteem all around. Our program has three main focus areas: cultivating a space of inclusion and belonging; building positive body image and self-confidence; and understanding healthy relationships and the concept of agency/consent. We run creative workshops and open a space for emotional vulnerability and a sense of collective comfort. We finish each semester with a field trip to Bard to help reinstate the idea that college is within reach and to get the girls excited about future learning. Our overarching goal is to help young girls find their voice in a society that often silences.

Global Cultural Outreach
Global Cultural Outreach is a project designed to bring members of the local community of Red Hook, New York, together with Bard College students, especially international students. We hope to improve mutual understanding about global cultures by hosting a yearly Bard–Red Hook International Cultural Festival. The first event took place in the spring of 2011 and approximately 150 community members took part. In addition to the yearly festival, project members facilitate monthly cultural exchange activities in the Red Hook School District. Through continued contact with the Red Hook School District, Library, Chamber of Commerce, and Mayor's Office, the project's mission of raising cultural awareness and building lasting relationships powered by effective communication is being realized. Past Project Leader(s):
Wenjie (Rena) Chen

God & Sexuality Conference
The God and Sexuality Conference is an annual forum for research, debate, and education on the issues surrounding religion and its impact on sexuality and gender.Past Project Leader(s):
KC Serota

Grace Smith House
The Grace Smith House is a residential facility in Poughkeepsie, New York, that serves domestically abused women and children. Bard students volunteer at the house, counseling the women and providing emotional support. All volunteers receive substantial training from Grace Smith. During the holidays, students raise funds to provide each of the residents with the gift of a new bathrobe. Lasting and encouraging relationships are fostered between the women and volunteers as awareness is raised about domestic violence and its emotional toll.Past Project Leader(s):
Laura Cunningham
Sarah Davis
Jenna Goldstein
Zoe Hickox
Karen Lamprey

Great River Sweep at Bard
Each year, Bard participates in Scenic Hudson's Great River Sweep cleanup of the Hudson River. The sixth annual event will take place April 17 - 25, 2004.Past Project Leader(s):
Dan Zinder

Green Campus Project
Climate change is without any doubt a real and global problem that highlights how truly interconnected all the world's people really are. However small and isolated Bard is, a seemingly benign presence in a rural area, our community makes a significant contribution to this global problem. Working closely with the Bard Environmental Resources Department (BERD), this project aims to support discussion and implementation of actions that will reduce Bard's ecologic "footprint," including the adoption of clean energies, reductions in energy demand through more efficient building and transportation practices, investment in firms that minimize their environmental impacts, and consumption of local and regional foods. The project will help make Bard an example of a community with minimum ecologic impact.Past Project Leader(s):
Sam Scoppettone

Green Pages
The mission of green Pages is to facilitate the networking, information sharing, and community building that will nurture a local network of economic and social cooperation. We work to encourage the creation of cooperative, place-based efforts, and to support and link those that already exist. To this end, we are compiling a green pages directory of local resources that fill local needs that will serve as a tool for cooperation and networking in the area from Rhinebeck in the southwest to Germantown and Livingston in the northeast, which is geographically defined by a flat valley on the East bank of the Hudson River, north and south of the Tivoli Bays. Currently, we are compiling the directory by examining all of the businesses, services, and organizations in the area and checking to see if they fit criteria for serving a sustainable and beneficial role in the area. Our next step is to create an online and printed version of the directory and to distribute it, which we plan to do in the spring of 2008. In the future, we hope to create a quarterly newsletter that will emphasize the cooperative aspects of the directory.Past Project Leader(s):
Anya Raskin

Habitat for Humanity
Habitat for Humanity volunteers travel to different sites in the United States to build affordable homes for those in need. Throughout the semester, students organize and participate in fundraising projects such as bake sales, charity concerts, the East Meets West cultural show, and candy-gram sales in hopes of developing leadership and a sense of community between the members. All the profit made through the fundraisers directly contributes to each member's registration fee to the Habitat for Humanity organization. Planned builds for 2007 include Cleveland, Ohio and rural Virginia. Past projects have been done internationally through HFH's Global Village Program.Past Project Leader(s):
Jennifer Feng
Nathan Gandrud
JP Lor
Prakirati Satasut
Izzie Sederbaum

Haiti Jakmel Ekspresyon Exchange
The Haiti Jakmel Ekspresyon Exchange is a student-driven partnership with a community center in Jakmel, Haiti. The project facilitates development within the local community by providing the center with STEM courses taught by Bard students. On a deeper level, the project is a cultural exchange that encourages the empowerment of both Bard and JE students alike. Every July, a small group of Bard students travels to Jakmel to teach courses on data mapping and collection to a combination of local politicians, students, professors, and city developers. The subjects for data collection range from HIV/AIDS rates to water justice, but most importantly, the areas of focus are determined by the Haitians themselves. By placing the power of data back into the hands of the people, the community can effectively access the needs of the city and surrounding towns, without relying on foreign aid and NGOs.

Harvesting Justice
Harvesting Justice is a student-run collective that helps up-and-coming farms in the Hudson Valley in tandem with the Freedom Food Alliance and other initiatives to fight institutionalized racism and social injustices. We provide support for small-scale local farms while engaging in conversations around class, race, gender, ability, status, and other aspects of our identity in order to break down stigma around agriculture and work against institutional barriers of access that are present in the modern food system. We provide weekly opportunities for students to volunteer on and learn from local farms that could use our assistance. We glean food donations for the Victory Bus, a project of the Freedom Food Alliance, which supplies affordable transportation to New York residents who wish to visit their families in prisons upstate while providing complimentary shares of fresh produce for the incarcerated and their families.

Heal With Wheels
Heal with Wheels is a group of Bard students, faculty, and staff that encourages exercise, environmental sensitivity, community bonding, and generosity to those in need. The group organizes a series of rides throughout the year for which riders fundraise for causes they deem worthy. Heal with Wheels is about feeling empowered-- empowered by riding, and empowered by making a difference in the world.Past Project Leader(s):
Kendra Rubinfeld

Hole Digging Club
The Hole Digging Club brought together people of diverse interests for the sheer joy of digging.Past Project Leader(s):
Ben Dangl

Hope in Devereux
The Devereux Foundation helps and inspires hope in some of our nation's most special individuals. It provides a continuum of care for children, adolescents, and adults faced with intellectual and developmental disabilities. Devereux believes that "family engagement is one of the most important building blocks in successful treatment and outcomes." Hope in Devereux expands this family and offers a community of young adults who volunteer in the closest Devereux site, in Red Hook, New York. We provide patients with homework help, drawing and art experiences, and simple companionship with people around their own age living a different kind of life. The work inspires Bard students by providing the experience of relating to very different kinds of people.
Student Leader: Britt ShachumPast Project Leader(s):
Britt Shachum

Horseshoe Pits
Logan Germick coordinated with Bard administrators to create horseshoe pits for recreational use outside the newly constructed Bertlesman Campus Center.Past Project Leader(s):
Logan Germick

Hudson Basketball Clinic
The Hudson Basketball Clinic brings together members of the Bard College men's and women's basketball teams and children at the Hudson Middle School Afterschool Program in Hudson, New York. The volunteers help with homework, provide tutoring, and run a weekly basketball clinic. The clinic is both fun and instructional, with basic concepts that are meant to carry over into the classroom. Many of the attributes a successful athlete needs—discipline and hard work—are also necessary for success in most areas of life. The hope is that by stressing these qualities in both athletic and educational settings, the Hudson students begin to control their everyday lives and consider higher education. By showing the kids options and bringing them to Bard as often as possible, the program broadens the horizon for young people who are often left out of educational opportunity.Past Project Leader(s):
Yonah Greenstein
Harry Johnson
Patrick Lichtenstein

Hudson Gay Straight Discussion Group
The Hudson Gay Straight Discussion group is a safe space for High School and Middle School students in Hudson to discuss their concerns surrounding the issue of sexual orientation. Bard mentors meet in a small group setting with Hudson students weekly. The purpose of the group is to provide not only accurate information, but the support to build self confidence and an avenue by which to make Hudson a more hospitable neighborhood for the queer community.Past Project Leader(s):
Molly Conway

Hudson Tutoring
Bard student volunteers provided regular tutoring to at-risk students at the Village School in Hudson, New York.Past Project Leader(s):
Salomeh Grace

HuTArt
HuTArt emphasizes innovative teaching methods to teach kids hip hop dance, graffiti art, and music. The group plans to build a yurt with high school students for use in workshops, exhibitions, and performances.Past Project Leader(s):
Julia Webb-Payne

Intercollegiate Energy Audit
Jesse Cutaia served as the Bard representative in the Intercollegiate Energy Audit organized by Clearwater, a Hudson Valley envirnonmental non-profit. The audit brought together students from Bard, Vassar, Marist, and SUNY New Paltz to gather information about energy efficiency and consumption on their campuses. The audit will be used for public education.Past Project Leader(s):
Jesse Cutaia

International Tuberculosis Relief Project
One third of the world's population is infected with Mycobacterium Tuberculosis. Approximately two million people die each year from this disease, mostly people from developing countries. TB is often overlooked by developed nations where the incidence of the disease is low. The International Tuberculosis Relief Project raises public awareness about TB and the devastation it causes. Our work happens in New York and across the US. In addition, we raise funds in order to finance medication and equipment costs for TB patients who cannot afford these necessities. We also establish personal relationships with these patients in order to give a human touch to medical intervention.Past Project Leader(s):
Tessa Dowling
Anh Pham
Jie Zhang

Internet and New Media Course
Onnesha Roychoudhuri researched and advocated for a Bard Course on the internet and new media. The course was offered in 2002.Past Project Leader(s):
Onnesha Roychoudhuri

Jewish Youth Programming
Emily Einsohn worked with the youth group at Ahaveth Isreal Synagogue in Kingston, New York to develop and support their activities programming.Past Project Leader(s):
Emily Einsohn

Kingston YMCA Mural
April Word organized the creation of a jungle-themed mural using images drawn and then painted by children in the afterschool program at the YMCA in Kingston, NY.Past Project Leader(s):
April Word

KitKat Mentoring
Once a week, students from the Rhinebeck middle school are brought to campus for a variety of activities. Activities are thematic and intended to foster self-esteem, team work and self-confidence.Past Project Leader(s):
David Martin
Katriel Statman

Make Art Now
Playwrights, actors, directors, musicians, and set designers have 24 hours to create an evening of theatrical performance. This is a highly collaborative and frenzied event!Past Project Leader(s):
Brel Froebe

Middle Eastern Dance Collective
Students learn traditional Middle Eastern dances and choreograph their own in these exciting, student-led belly-dancing workshops. Participants explore the history and social politics associated with belly dancing, whose origins are in childbirth training, not in overt sexuality. The ethos of the collective is abundant mutual support, and for many this is their first positive performance opportunity.Past Project Leader(s):
Victoria Jacobs

Migrant Labor Project
We are a student-based organization that works to improve the conditions of migrant laborers and their families in New York State, particularly the Hudson Valley, through community and campus education, direct service, research, and advocacy work.MLP also works with a coalition of organizations involved in the Justice for Farmworkers Campaign, which advances farmworker rights through a legislative agenda. Additionally, we work with local agencies and organizations dedicated to serving the migrant community. In doing so, the project helps spread awareness of services available to migrant workers, and promotes student involvement in the expansion of these services.Past Project Leader(s):
Sarah Lynch Thomason
Betsy Plum
Chloe Ravel
Owen Thompson
Julia Wentzel

Moroccan Youth Culture Initiative
The Moroccan Youth Culture Initiative is a relationship between Bard College and the youth of urban Rabat, Morocco. As an international organization, we wish to empower youth and community development from a different angle. What this means is that instead of imposing external modes of thinking about development and empowerment on a community, we work to enable and facilitate activities and lifestyles that Moroccan youths and communities themselves view as empowering, important, and relevant. In the poor and sprawling neighborhoods and shantytowns of Rabat, the unemployment rate rests over 55% and few economic opportunities exist for youths; some explain, "One has the option to join the drug mafia, steal, or join a militant-religious group." However, young men and women in these neighborhoods are working to envision, create, and pursue alternative means of engaging in the world through the realm of youth culture. Through cultural expression, performance, and language we want to enable structurally disadvantaged youths to express themselves and be heard.Past Project Leader(s):
Michael Kellner

Off-Campus Students Initiative
The Off-Campus Students Coalition is a new project geared towards students living off campus, students intending to move off campus and members of communities outside of Bard. We aim to provide better communication between the college, local municipalities, and students residing off campus. The Coalition is a forum for guidance ranging from parking information, garbage removal, and housing availability to cooking advice and farmers markets. The Coalition encourages greater participation, knowledge about tenants rights and landlord responsibilities, and respect between students and local communities. This project aims to extend the Bard support network to off-campus students to help foster a symbiotic relationship among students and local residents. To see what kind of information the Bard OCSC provides, or to contribute to the conversation, please check the blog at www.bardoffcampus.com or send an email to [email protected] Project Leader(s):
Jenna Hope Goldstein

One Year Later Research Project
Taking the mass demonstrations of February 15, 2003, as an exemplar of contemporary social movements, the One Year Later project envisages critical scrutiny of the "global" antiwar movement. Research aims include, but are not limited to, historical comparisons, the relevance of new media, the structure of social networks, and the claims of humanitarian intervention. The research project will consist of a book project, academic presentations, panel discussions, and films.Past Project Leader(s):
Kelly Burdick
Armando Mastrogiovanni
Anna Mojallali

Palestine Awareness Project
This project is related to the Balatacamp.net project and includes organizing a "sister-region" set of projects that will connect Balata and the Bard (and extended) community.The project's theoretical and practical framework exists in the sphere of communications and uses the internet and new forms of digital technology to connect Palestinian and American students interested in film, politics and cultural exchange.Past Project Leader(s):
Kate Crockford

R.I.S.E.: Respect, Integrity, Service, Education
R.I.S.E. is a safe and inclusive support group that focuses on issues of identity, diversity, and the role of male students of color. R.I.S.E. will foster leadership, community, and inter-collegiate networking.Past Project Leader(s):
Carlos Apostle

Red Hook Debate in Schools
The Red Hook Debate in Schools program is dedicated to teaching students at Linden Avenue Middle School the skills necessary to speak effectively in public and debate with others in a constructive and meaningful way. Bard students work closely with the middle school students to teach important debate principles, such as how to construct an argument, properly refute another speaker's argument, and effectively research debate and discussion. The process of debate offers profound and lasting benefits for individuals, for societies, and for the global community as a whole. With its emphasis on critical thinking, effective communication, independent research, and teamwork, debate teaches skills that serve individuals well in school, in the workplace, in political life, and in fulfilling their responsibilities as citizens of a democratic society. These are the skills that Red Hook middle school students learn as part of the Red Hook Debate in Schools program.Past Project Leader(s):
Zach Israel

Red Hook High School Math and Computer Science Club
The Red Hook Math and Computer Science Club creates a place for local high school students to explore computer science and mathematical applications with the help of Bard College students and faculty. The club meets weekly to work on various projects, including an investigation into the uses of fractals, the relationship between math and graphics, game programming, and mathematical applications in music. High School participants are encouraged to develop their own project ideas.Past Project Leader(s):
Joanna Fivelsdal

Red Hook High School Model United Nations
20 Red Hook High School Model United Nations This project partners Bard College students with Red Hook High School students to create a competitive high school Model United Nations (MUN) program. High school students meet on a weekly basis to learn how to write foreign policy position papers, research and discuss international current affairs, and become successful public speakers. The students attend MUN conferences and compete against hundreds of schools drafting resolutions to solve the world's most pressing international crises. The Red Hook Board of Education, principal, and students support this project as it will increase knowledge of the international community and develop academic and social skills, which can be applied to future endeavors.Past Project Leader(s):
Connor Gadek
Jason Toney

Red Hook Residential Tutoring Program
Bard student volunteers holds weekly tutoring sessions with the young men incarcerated at the Red Hook Residential Center (RHRC) in Upper Red Hook, New York. Subject areas include reading, writing, math, and social studies, as well as TASC/SAT prep. With the assistance of the RHRC administration, we tailor specific materials to fit the needs and interests of each student in order to align with their class curricula. Through this project, we hope to offer students at RHRC the opportunity to meet or exceed their grade level, to enhance their understanding of fundamental academic material, and, most of all, to foster in them an appreciation for continued education.


Rhinebeck Connections (Homework Help)
Rhinebeck Connection Homework Help Program, a partnership between Bard College and Young Rhinebeck, offers after-school tutoring to students of Bulkeley Middle School in Rhinebeck, New York.Past Project Leader(s):
Kelly Burdick
Spencer Goot
Jackie Stahl

Sail Forward
Sail Forward is an afterschool enrichment program in the Germantown Central School District. Based in the elementary school, Bard students create unique programs rooted in their own interests and skills. The curriculum serves the needs of the classroom and spans various disciplines including creative writing, art, debate, and the performing arts. The projects are intended as collaborations between students, faculty members, and administrative staff.

Science Coffeehouse
The Science Coffeehouse provides an open monthly dialogue for Bardians about current issues in science. This is an entirely student organized science forum.Past Project Leader(s):
Megan Kerins
Peter Milano

Sister Cities Project
The Sister Cities Project works to strengthen the bonds between Red Hook, New York, and her sister towns: Kfar Tavor, Israel, and Mas'ha, West Bank. By working with local schools in these towns, the program will connect Israeli and Palestinian youth to the youth of Red Hook. The Bard College students will work with the Red Hook Town Sister Cities Committee to cultivate these relationships. This past September, Mayor Nedal Amer of Mas'ha visited Bard and Red Hook and participated in several events.
Past Project Leader(s):
Daniel Gettinger
Jordana Rubenstein-Edberg

SMOG
The Student Mechanic Operated Garage (SMOG) has been converted into a student-run performance space. The college has expanded the building and created a performance venue for music and music-related performance.Past Project Leader(s):
Brandon Rosenbluth

SSTOP: Students Stopping Trafficking of Persons
Sarah Paden

Student Action Documentary Film
The Student Action Film Documentary Project seeks to provide one more source of documentation separate from corporate media. Using footage of student activity in the antiwar movement during the spring of 2003, Thalia Forbes is crea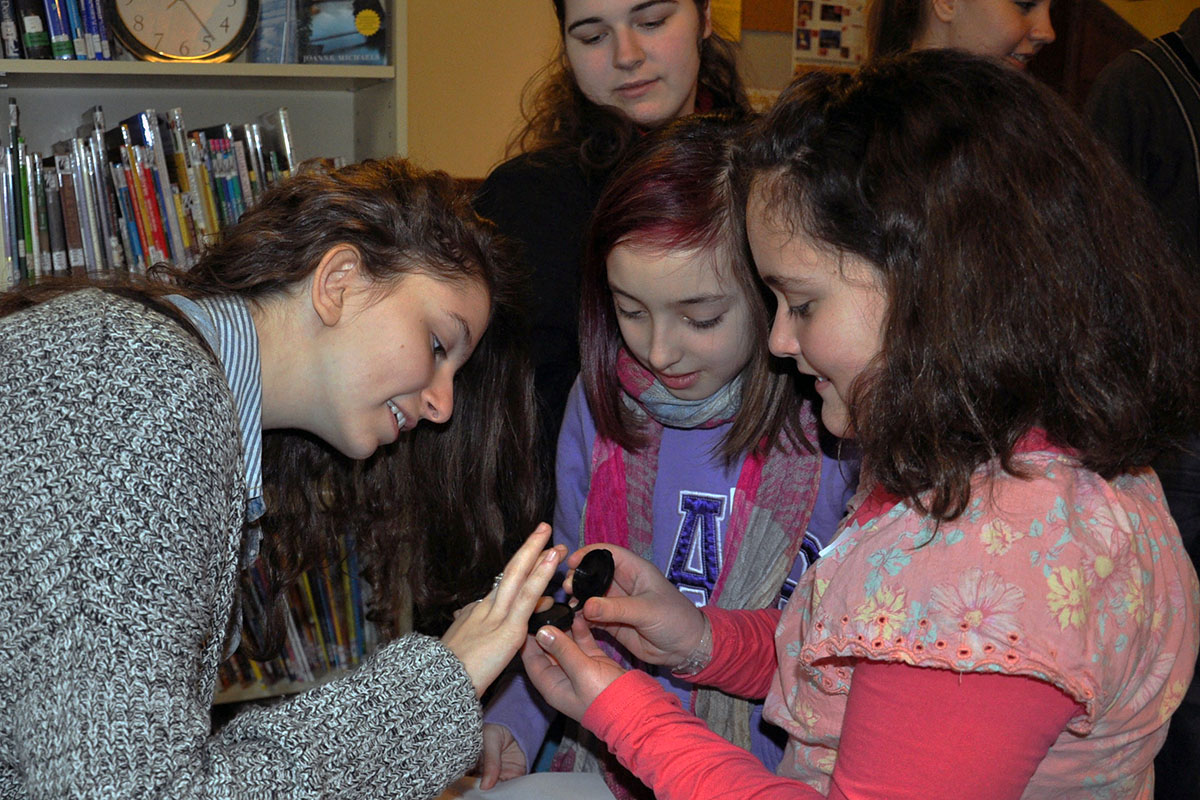 Calling All Volunteers
You don't have to be a project leader to get involved with TLS.
Volunteers are the backbone of TLS projects: whether you are a Bard student or a community member, we need your help. Join the Astor Home project in Rhinebeck, build homes in Nicaragua, teach outdoor education to middle schoolers from Red Hook, offer arts workshops in New Orleans … the possibilities are endless.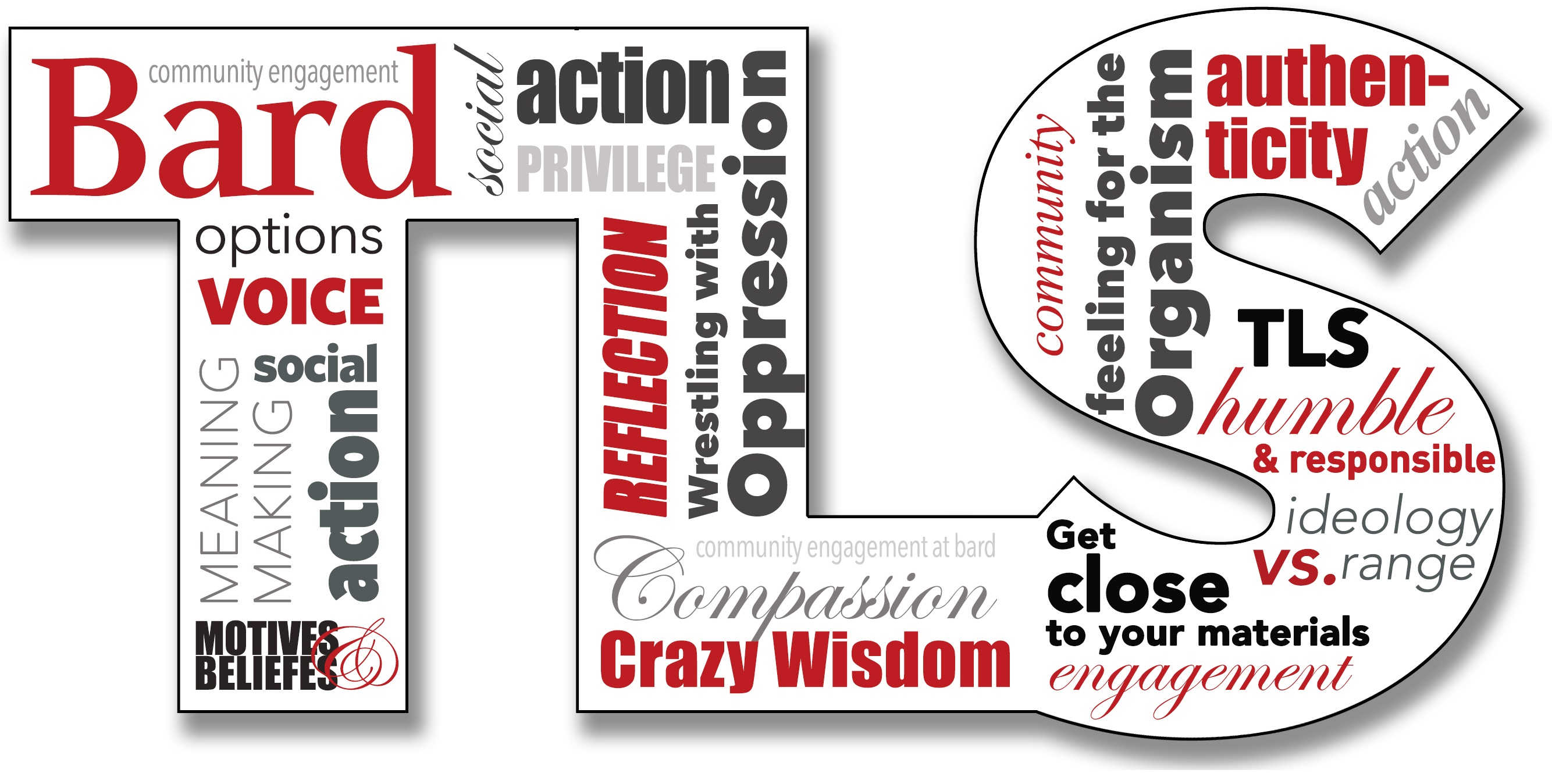 I have a big idea.
Let's discuss how to make
your project come to life.

We'll be in touch to schedule a meeting!
Frequently Asked Questions
What is TLS?
The Trustee Leader Scholar Program is the formal civic leadership development program for undergraduate students at Bard College. TLS supports the liberal arts mission of enlightened citizenship: personal development in the context of community building.

Who is in TLS?
Every Bard student is eligible to apply to TLS and TLS students come from every academic discipline on campus. Approximately 50 undergraduates are TLS leaders at any given time and most TLS students remain actively involved in the program throughout their college careers.

What makes TLS special?
Many colleges provide volunteer and community engagement opportunities. Bard is one of the few that puts substantial resources and trust behind student-led initiatives. Students must initiate the work. The fundamental criterion for accepting a project is that it must contribute positively to the world and challenge the student—organizationally, ethically, politically, and emotionally.

What do TLS students do?
TLS students design and implement social action projects based on their own compelling interests. TLS students write extensive proposals, budgets, and personal accounts of their activities. They meet one-on-one with program administrators and attend workshops to explore the ethics of social action, public speaking, group facilitation, and interpersonal communication. TLS students also raise their own funds and many become proficient at fundraising and campaign organizing.

What are some key values in TLS?
TLS addresses the issues of paternalism and privilege that are stirred up by the notion of "helping others." Students are encouraged to read widely about oppression, identify their own motivations and needs, and experiment with ways of organizing that treat other people as partners, not passive recipients. We try hard to strike a balance between inward reflection, societal awareness, and compassionate action. TLS considers this life training.

What is the ultimate goal of TLS?
TLS strives to put into the world capable, sensitive adults who have the ability to generate, plan, fund, and implement large-scale projects that matter and that influence environments humanely. Many TLS students leave Bard capable of creating their own nonprofit organizations.

How does TLS differ from similar programs?
TLS is leadership development, not community service. TLS students do not earn academic credit for their efforts but do receive stipends to support their work. Separating TLS work from academics allows students to design and implement ambitious civic engagement projects spanning multiple years. TLS recognizes that organizing a major project while completing Bard's rigorous academic requirements is a demanding load and is not for everyone. It is worth noting, however, that many TLS students have said, "My project was the most important thing I did in college."

How do you apply to the TLS program?
TLS applications are considered on a rolling, year-round basis. The best way to start the process is to talk with TLS staff members, who are always open to hearing the words, "I have an idea for a TLS project." Students are encouraged to consider TLS from the moment they arrive on campus.