Afghanistan Event Emotional, Inspirational, Revealing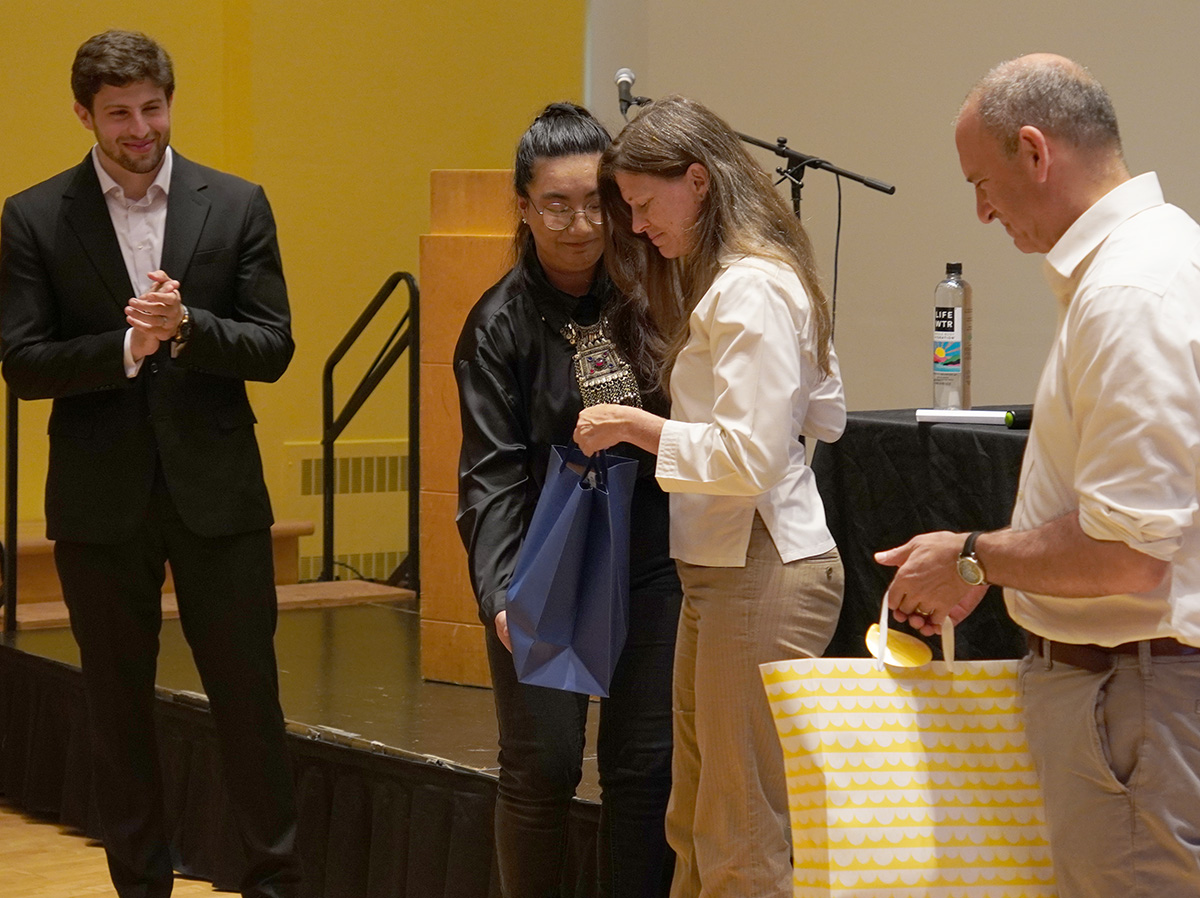 By Jim Sheahan
There are more than 100 students from Afghanistan continuing their education at Bard College, and more than 100 ways they all ended up here. All of the stories are complicated, harrowing, and traumatic.
An event organized and attended by students from Afghanistan on September 10 commemorated the arrival date of the first student cohort that Bard assisted in fleeing the country when the Taliban took over in 2021. The event was titled "From Crisis to Classes: A Gathering on Highlighting the Importance of Education."
The event was complicated, too. It was part celebration, part gratitude, part sadness, part hope, part joy, part tears, part laughter, part longing and part relief. It was followed by a shared meal of authentic Afghan cuisine, which made all of it feel a lot better.
"Our idea was to bring together Afghan students and everyone who has been involved in helping students settle in at Bard College," said Aqela Nussrat, who planned the event with Zohra Helali. They are both seniors who are studying Economics. "We wanted to bring the space for an open and honest discussion about what happened over the past two years at Bard, reflecting people's experiences, including the achievements, challenges, and failures.
"We also wanted both the students and the Bard administration to know both sides of the story," she added. "Some of the students didn't know all the Bard efforts that went into getting them into Bard. On the other hand, the Bard staff members involved in this effort were also interested in learning more about the students."
A panel moderated by Speaker of the Student Body Abdul Matloob Naweed, a senior computer science major, consisted of Bard Vice President for Strategy and Policy Malia Du Mont; Bard Vice President for Academic Affairs and Director of the Center for Civic Engagement Jonathan Becker; Associate Dean of Students Dorothy Albertini, and Zahid Jalali, Open Society University Network Faculty Mobility Program Manager.
Becker explained the work Bard had done in advance of the madness that was happening in Kabul, but also how the swiftness of the fall of the city threw everything into chaos. Bard had to change course from planning to send in planes and buses to trying to get much smaller groups of students out of the country in cars. The first cohort across the border included nine students.
"All of the groups that were trying to fulfill plans to evacuate people were running into barriers at every turn," Becker said. "All of the plans had to change, and we were trying to simply solve one problem at a time as this tragedy unfolded."
Du Mont, a military veteran who served in Afghanistan, shared through tears the profound sorrow she felt about the fall of Kabul.
"It was heartbreaking," Du Mont said. "And on behalf of all the U.S. veterans who dedicated many years to try to help our Afghan friends… it was strange to realize that most Americans didn't know we had been in Afghanistan for 20 years, so that was heartbreaking, too."
Albertini recalled a sense of helplessness about how to help the first group of students from Afghanistan who arrived at Bard.
"We had heard their stories, and what can you do to help at that point?" Albertini said. "The first thing we decided to do was share a meal and be human together. That was the start of everything."
Jalali and his wife, Suhailla, who also works at OSUN, have acted as advisors and have welcomed many students from Afghanistan into their home for meals. They are both Afghan.
"It has been an absolute pleasure," Zahid Jalali said. "Hundreds of thousands of people remaining in Afghanistan still can not get an education, and Bard is always thinking of other ways to make education accessible to Afghan women.
"Each of you have the capacity to be agents of change," Jalali continued, speaking directly to the students in attendance. "I know that many of you are helping people back home in Afghanistan, and you've succeeded by earning scholarships. None of it would have been possible without the support of Bard and the amazing community here."
Sophomore architecture major Narges Ghaznawi silenced the room with a speech she prepared for the event.
"I was born in Iran as an Afghan refugee, and I never had a sense of what home meant," she said. "My biggest dream was to finish high school, which was the highest level of education an Afghan refugee in Iran could reach. When I went back to Afghanistan, it changed all of my hopes and dreams. And over the course of a few hours on August 15, 2021, I lost everything.
"A week later, I was evacuated, leaving all my accomplishments, hopes and dreams behind, and spent time at different U.S. military bases," Ghaznawi continued. "I heard about the scholarships being offered at Bard, and now Bard is my home in the U.S. And I promise I will not give up on my dreams."
Ghulam Sakhi Atayee, a first year graduate student enrolled in the Bard Globalization and International Affairs program in New York City, recalled "seeing a city of 10 million people in utter chaos." And senior computer science major Maihan Naimi said, of the day Kabul fell, "That day as the sun set, it wasn't about the loss of a land. It was the loss of a dream for a brighter Afghanistan. We lost our soul."
"A month after the collapse, I received notice about my scholarship to Bard," Naimi recalled. "It reminded me that I still had hope. And from the moment I arrived at Bard, there were open arms and warm hearts. The college not only provided us with an education, but a sense of belonging. The experience has opened doors for me."
The event was co-sponsored by the Bard Center for Civic Engagement, and the Bard Institute for International Liberal Education.
"The presence of dozens of Ukrainian and Russian students is part of what's next at Bard," Du Mont said. "(The Afghan students) have shown us that even in the midst of chaos, and tragedy, and fleeing your country and starting over, there is great resilience there. Thanks to the example (they have) set, we've learned that we can help more people than we realize."
"Bard is trying to focus on providing education in places where it is underrepresented or absent," Becker said. "Those people could be in cities, or in prisons, or in Myanmar, or in Russia, and we're exploring it because we want to make sure the education of young people continues, and it really enriches our campus."
Post Date:
09-13-2023