Bard Students Support United Auto Workers Strike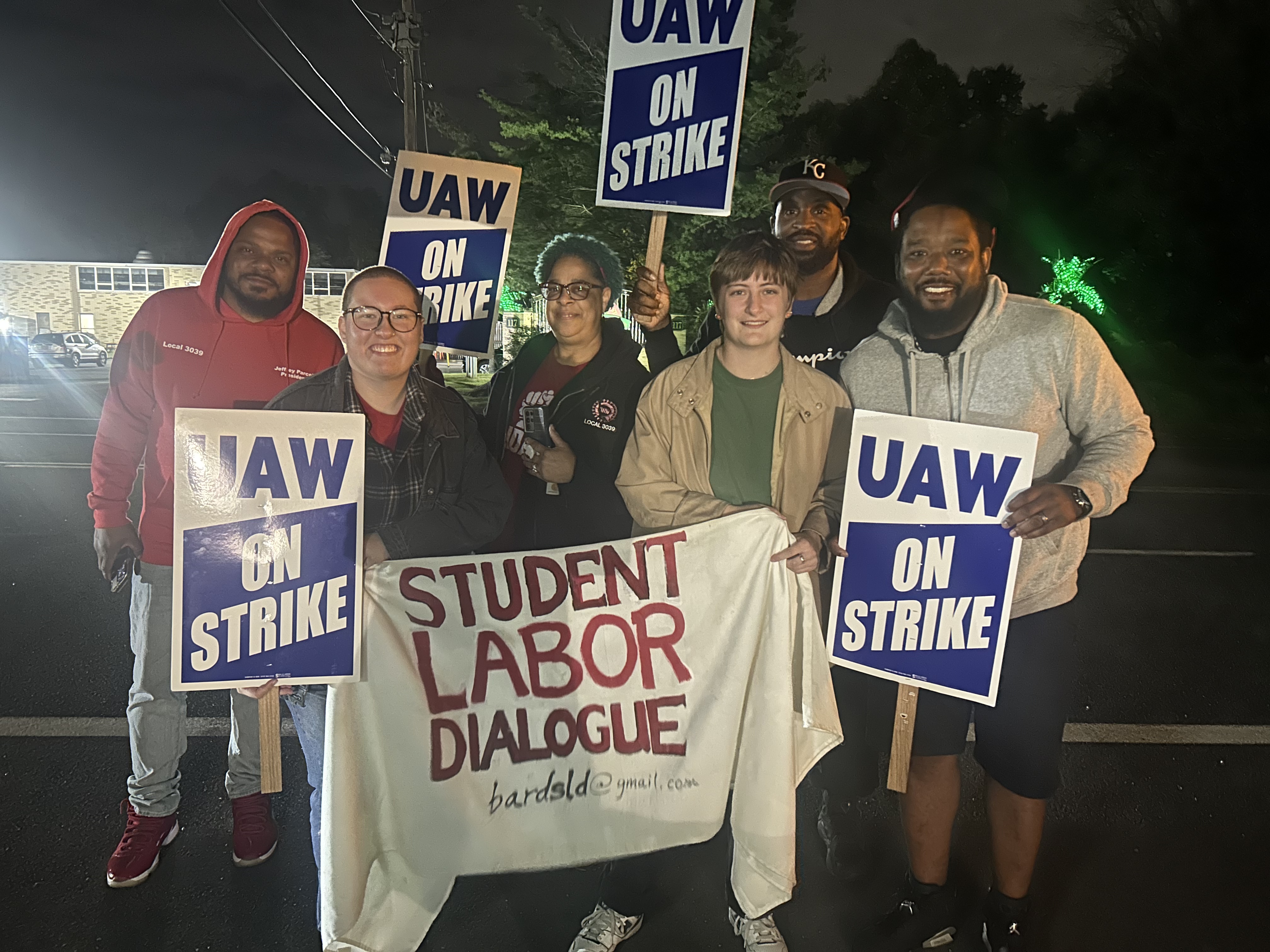 By Sarah Seager '24 and Grace Brody '24
On Sept. 22, seventy auto workers at the Chrysler Parts Depot in Tappan, N.Y., walked off the job.
They joined the thousands of other United Auto Workers members in their historic strike, where they are seeking better pay and better benefits. Many plants, including Tappan, are demanding pay increases and better benefits. Screenwriters, actors, healthcare workers, and hospitality workers across the country have also joined this wave of labor strikes demanding proper compensation.
On Sept. 27, in solidarity with the UAW workers, Bard students Sarah Seager '24 and Grace Brody '24 joined the picket line in Tappan.
Brody (they/them), is a Bard senior, studying Politics, has been part of the Student Labor Dialogue (SLD) since fall of 2022. Additionally, they work as an Admissions Tour Guide and a writing tutor in the Bard Learning Commons. Founded in 2005, the SLD has been involved in supporting worker solidarity in various ways for both the on-campus and off-campus communities.
Since getting involved with the SLD, it has become an increasingly important part of Brody's life and career goals. They are hoping to work in labor organizing post-graduation and see it as one of the most effective ways to enact change in people's everyday lives.
Seager (she/her) is a senior studying Economics and Public Health. She is co-President of The SCALE Project and has been a member of SLD since Fall of 2022. Through direct action, resource distribution, and collaboration with administration, The SCALE Project has been serving low-income and first-generation students at Bard since 2017. From SCALE to her time with Peer Health and Election@Bard, all of Seager's work at Bard has focused on the importance of community and interdependence.
The COVID-19 pandemic was when she saw in practice just how important solidarity is across identities and experiences. Through this, she became increasingly more passionate about labor organizing as a tangible and structured way to foster solidarity.
"The decision to join the picket line was somewhat spontaneous after many regional organizations were invited to join the strike, such as the Hudson Valley Democratic Socialists of America and other local unions," they said. "While we weren't able to join until later in the evening, the strong sense of solidarity was still present throughout the workers. In fact, many of them were shocked that there was so much regional support for the strike – Senator Chuck Schumer even making an appearance the day before. Workers have been picketing 24 hours a day, seven days a week, so they were especially appreciative of the support later in the evening."
Talking to the members and the President of the Local 3039, Jeffrey Purcell, we were able to learn some of the different ways people get into organizing. Regardless of what motivated each member, they have built immense trust with each other and recognize the collective goals they are working toward. Their dedication and trust to each other and the justice they deserve is admirable and a demonstration of just how powerful solidarity can be.
We both find it incredibly important for Bard students to stay active in the local community! Being a part of the UAW strike, while brief, highlights how anyone can join this historic movement. We encourage the rest of the Bard community (staff, faculty, students, and even alumni) to get involved in your local communities and take part in the historic movements toward labor justice.
Post Date:
10-19-2023