Before the Bard Lands: ELAS Students Unearth Artifacts of Ancient Local Peoples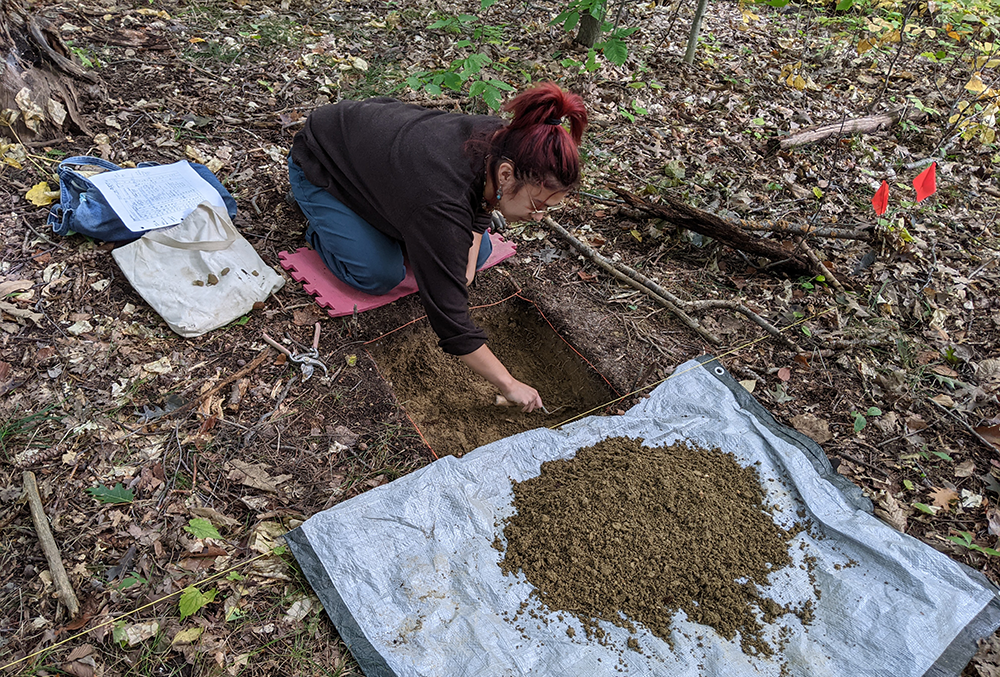 By Astrid Guzmán Hernández (Bard College '25)
Today, Bard College's 1000-acre campus is chock-full of asphalt roads and buildings in the Gothic Revival style, but it wasn't always that way. The ELAS archaeology course "Anthropology 211: Ancient Peoples Before the Bard Lands: Archaeology Methods and Theory" seeks to uncover what the societies 5,000 years ago left behind.
This class doesn't just take place in a classroom. Students also gather at the Forest Site archaeological dig located next to the Honey Field. Although it's close to the center of the college grounds, this wooded promontory high above a creek still feels strangely isolated, with a sea of tarps separating it from the rest of the campus.
On a recent visit, I saw students hard at work either scraping at their designated area or sifting through the dirt they had already dug up. Professor
Christoph Lindner
excitedly pointed out the recent discoveries by Emily, one of the twelve students participating. She explains how the orange and grey speckling on the burnt stones in the bottom of her shallow quarter-square-meter trench means that, at some point, there was possibly a fire here. Fifty feet away is another student, McKinlay, who is working separately from the rest of the group. McKinlay is an anthropology major working on her senior project, hoping to find material she can use to further develop her research. She's been allowed to work in a section of the site where fragments of pottery are concentrated in abundance.
Slowly but surely, students uncover signs of previous civilizations in the area. Flint here, charcoal there, pieces of scattered pottery: in this class Bard undergraduates get a rare opportunity to bring to light items that are important in both the historical and contemporary contexts. They ultimately want to share their results with the Stockbridge-Munsee Community of the Mohican Nation, through another senior project that includes an online interactive digital map of the site linked to photographs, videos, and textual interpretations.
Post Date:
11-19-2021