College Behind Bars Released to Rave Reviews, Brings Debate on Prison Education to the Fore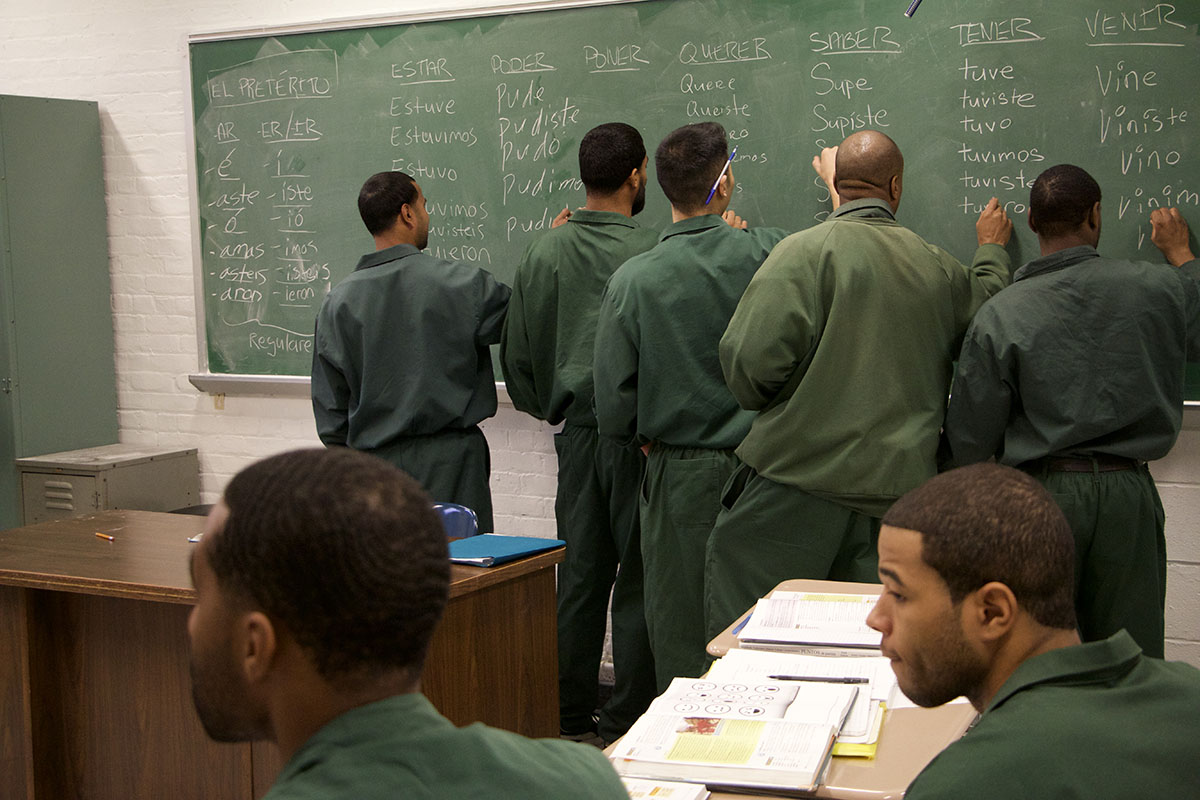 Parts 3 and 4 of College Behind Bars will air on Tuesday, November 26, at 9/8c on PBS stations and stream on PBS.org.
College Behind Bars
, the PBS documentary series following students in the Bard Prison Initiative, premiered this week, earning widespread praise. The series release is amplifying a national conversation about criminal justice reform and higher education in prison. Parts 1 and 2 of the series aired for the first time on Monday, November 25. Parts 3 and 4 will air on Tuesday, November 26, at 9/8c. The entire series will be available for streaming on PBS for 60 days.
College Behind Bars
, a four-part documentary film series directed by award-winning filmmaker Lynn Novick, produced by Sarah Botstein, and executive produced by Ken Burns, tells the story of a small group of incarcerated men and women struggling to earn college degrees and turn their lives around in one of the most rigorous and effective prison education programs in the United States—the Bard Prison Initiative.
Shot over four years in maximum and medium security prisons in New York State, the four-hour film takes viewers on a stark and intimate journey into one of the most pressing issues of our time—our failure to provide meaningful rehabilitation for the over two million Americans living behind bars. Through the personal stories of the students and their families, the film reveals the transformative power of higher education and puts a human face on America's criminal justice crisis. It raises questions we urgently need to address: What is prison for? Who has access to educational opportunity? Who among us is capable of academic excellence? How can we have justice without redemption?
BPI alumni and staff have been traveling around the country with the filmmakers engaging in conversations about
College Behind Bars
and their experiences at BPI and beyond.
---

Selected media coverage of College Behind Bars

Bard Prison Initiative Alumni in Their Own Words
Some of My Proudest Accomplishments Happened in Prison. How Should I Talk About Them?
In the
Washington Post
Bard Prison Initiative alumnus Alexander Hall, now a housing associate with the Bard Prison Initiative, writes about the lingering stigma of prison. "But every day, I am more convinced that this cloud looms only because people like me don't talk about the remarkable transformations we were able to make while in prison or what those transformations enable us to accomplish when we are released. It is our responsibility to show, prove and educate the public."
Former Incarcerated Student: Society Owes Men and Women in Prison Chance to Return Whole
In
USA Today
"I have been out of prison for more than three years; my liberal arts education contributes to my successful reentry every day," writes Giovannie Hernandez in
USA Today
. "My understanding of history, literature and politics allows me to interact confidently and capably with people from diverse backgrounds. I work as a case manager for the Brooklyn Community Bail Fund, where I am better able to communicate with and advocate for my clients because BPI taught be how to be a resilient, tenacious and compassionate thinker."
An Inside Look
In College Behind Bars, Prisoners Step Into the Classroom
In
Vulture
Reporter Ted Alcorn attends an early screening of
College Behind Bars
at Fishkill Correctional Facility, and captures BPI students' reactions to the series.
Documentary Provides Rare Look at Higher Education in Prison
In the
Conversation
Mneesha Gellman is a Bard College alumna and was one of the first student volunteers for the Bard Prison Initiative. Now a faculty member at Emerson College, she used her experience and the Bard Prison Initiative as a model to launch the Emerson Prison Initiative, which expands access to higher education to incarcerated people in Massachusetts.
Interviews
"This Is a Story of Hope." New Documentary Series College Behind Bars Follows Men and Women Working to Gain College Degrees While in Prison
In
Time Magazine
Director Lynn Novick, producer Sarah Botstein, and BPI alumnus Dyjuan Tatro discuss the film.
Incarcerated Men and Women Find Rehabilitation and Hope in College Behind Bars
From
NPR's Fresh Air
Director Lynn Novick and graduates Sebastian Yoon and Dyjuan Tatro talk about how the program changes lives.
Higher Education and Incarceration
On
WNYC's
Brian Lehrer Show
The documentary filmmaker Lynn Novick and Jule Hall, a Bard College Prison Initiative alumnus and program associate for the Ford Foundation, talk about Novick's new film,
College Behind Bars
.
Reviews
PBS's College Behind Bars Offers a Lasting Lesson: Learning Is Its Own Kind of Freedom
In the
Washington Post
"Serious scholarship gives them a sense of identity they'd never had before; as Novick's camera reveals over time, the knowledge they acquire makes them stronger, fuller people and engaged citizens. Indeed, they become even more remorseful about their crimes, with increased empathy for other people and a greater understanding of the human condition."
"Undoing a Mistake": Ken Burns Film Looks Inside the Push to Bring College Education Back to Prison
In
USA Today
How College in Prison Turns Around Lives and Saves Taxpayers Money
In
Forbes
PBS Chronicles 12 Inmates Who Value Education in
College Behind Bars
From
NBC News
The film fills the screen with stories about human transformation as cameras follow a dozen incarcerated men and women as they try to earn college degrees.
Post Date:
11-26-2019