Community Action Award Highlight: Jessie Floyd '21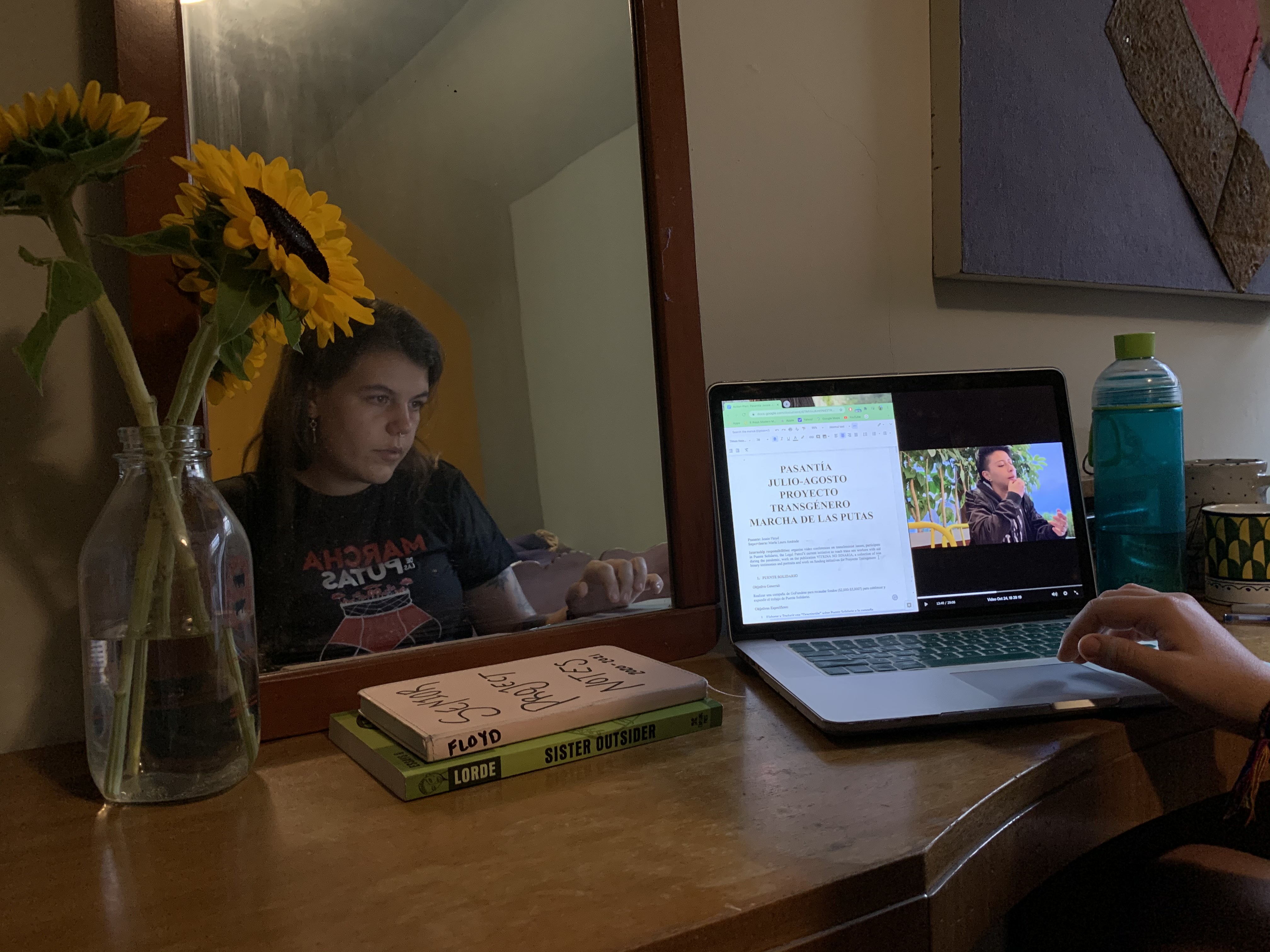 by Jessie Floyd '21
Last fall, I had the opportunity to study abroad in Quito, Ecuador through the Pitzer Ecuador program. A key component of the program was learning from a community service project. At Bard, I am a Spanish Major with a Concentration in Gender and Sexuality Studies. Because of what I'm studying at Bard and my desire to learn about gender activism and transfeminism in a context other than the American one, I chose to volunteer for Proyecto Transgénero.
I learned that Proyecto Transgénero is a transfeminist organization that works with many different projects, each with the mission of dismantling systems of gender oppression and gender violence. The principal projects I worked with were "la Vitrina No binaria" (The Non-binary showcase), "el Sindicato de Trabajadores Sexuales" (The Sexworkers Union), "la Marcha de las Putas" (the SlutWalk Ecuador), and "la Fraternidad Transmasculina" (The Transmasculine Fraternity). More specifically, I began the process of conducting and translating interviews with non-binary people so they could share their stories about and thoughts on gender. I also helped plan la Marcha de las Putas and organized, attended, and then ran Putalleres (slut workshops). The workshops were transfeminist conversations with people who had all different types of life experiences but shared a common frustration with oppressive gender systems in Ecuador and beyond.
As part of the Pitzer Ecuador program, we were required to do an independent study and I decided to look into the question: "What does gender mean in Ecuador?". My work involved eight lengthy interviews of people I had met through Proyecto Transgénero and in my daily life. I was very aware that I was just scratching the surface. Gender systems and gender identity are personally and socially complex. However, what I did learn definitely changed the way that I think through gender and the way that I wanted to go about studying it. Personally, I am a queer woman who has had traumatic experiences with sexual assault and sexual harassment. Until working with Proyecto Transgénero, specifically the founders Eli and Ana and activist Fabian, I had not been a part of an honest, empowering, intersectional, and authentic gender-based group. I left Ecuador with a deeper understanding of gender norms and gender bias's connection to colonial history and colonial legacy as well as a passion for listening to others and sharing my own story.
I decided to do my Senior Project for Bard as a continuation of the project I had done on gender last fall. I also grew excited about the possibility of interning with Proyecto Transgénero this summer to learn more for my SPROJ and to help the organization with fundraising and international outreach. Given the organization's flexibility and reliance on frequent communication via WhatsApp, I felt confident that my work could be done remotely if need be. I have not been disappointed. My weekly schedule since early July has included weekly Zoom meetings with Maria Laura, my supervisor, with her in Ecuador and me in New York, and frequent updates in our WhatsApp group chat. Recently, I've been working on translating the language of a GoFundMe that will raise money to help Proyecto Transgénero deliver groceries to transwomen from the Sindicato de Trabajadores Sexuales since they cannot work safely during the COVID-19 crisis. I've also been working on editing the video clips of the interviews I have from last fall that I wasn't able to complete before returning to the United States. This editing has taken a significant amount of time as I learn how to use new software and transcribe quotes in my second language. In future weeks, I will be working with Maria Laura to create a proposal for virtual transfeminist workshops that might be able to stand in place of this year's Marcha de las Putas.
I have been honored and excited to work with Proyecto Transgénero this summer. It has been wonderful to be doing something that I feel so passionately about, especially given the challenges of feeling hopeful in 2020. If you would like to support Puente Solidario (Bridge of Solidarity), an initiative run by Proyecto Transgénero to donate food and supplies to the trans community in Quito, see below.
Post Date:
09-04-2020