Exploring Amnesty: One Student's Journey to Expand Human Rights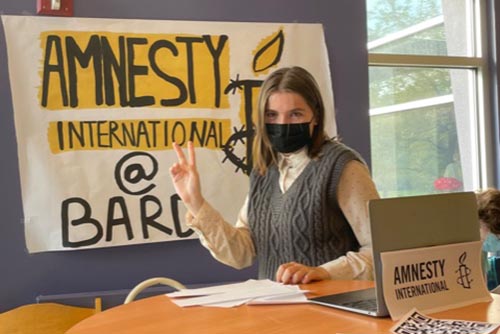 Anna Likhanova (Bard '25)
Even before I first arrived for the Language and Thinking orientation on the campus early in the semester, I had decided to start the Amnesty International Human Rights Club at Bard. In high school, I was a part of Amnesty Norway and I knew that it was something I wanted to bring to my new community.
We're always asking ourselves, "How can we figure out ways to make the world a better place and then help facilitate this change?" I'm originally from Russia, and human rights in my home country is a sore topic. Even before I became more conscious of what my rights are, I always felt that treatment of human rights needed to be improved. This is what first inspired me to join Amnesty at my high school. I went on to become a club head and then group coordinator at Bard.
Recently I was honoured to be recognized by the Center for Civic Engagement and participate in a panel during Family and Alumni weekend. I spoke about the purpose of the club and what's possible in the future, as I hope to establish a legacy so that the Amnesty Club will be here when I graduate and human rights awareness at Bard will become a tradition that moves beyond current programs and academic discussions.
While I am leading Bard's Amnesty chapter, my hope is to collaborate with other clubs and Trustee Leader Scholar projects in order to bring the human rights conversation not only to campus but also to nearby Red Hook and Tivoli.
On December 10th, Bard's Amnesty Club hosts an open discussion about human rights for
International Human Rights Day
, where we will discuss what it means to take direct action through the framework of Amnesty International, bringing a positive and holistic change to the community.
Post Date:
11-19-2021