#FollowWednesday: Maggie Hazen and Lauren Enright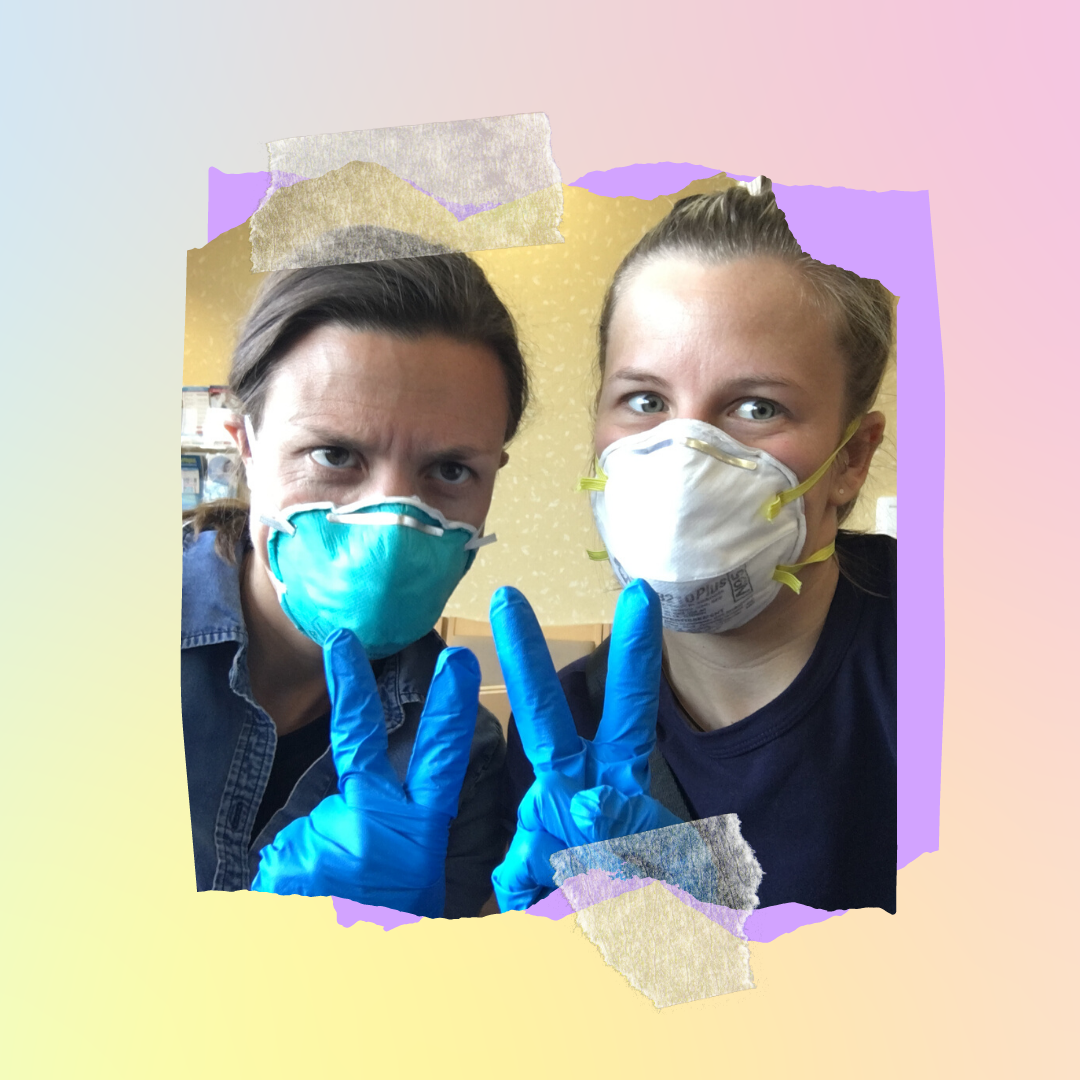 This week we have a special #FollowWednesday featuring Maggie Hazen and Lauren Enright! In response to the Covid-19 pandemic, Maggie and Lauren 3D printed and assembled PPE face shields in upstate New York.
Maggie Hazen
is a New York based interdisciplinary artist from Los Angeles and is also the Co-founder and Director of the Juvenile Justice Digital Arts Project (JJ-DAP). Her work explores themes of resistance in a cinematically real world of violence through a combination of moving image, sculpture and performance. Her forthcoming exhibitions will be at The Bronx Museum in New York and Vox Populi in Philadelphia. She has exhibited, screened and performed works at Pulse Miami Beach as part of Pulse Play; The Museum of Tolerance, Los Angeles, CA; Microscope Gallery, Brooklyn, NY; Light Year on the Manhattan Bridge; The Granoff Center, Brown University; Performance Works Northwest, Portland, OR; CICA Museum, South Korea; Holland Projects, Reno NV; Icebox Projects, Philadelphia, PA; and The Boston Young Contemporaries, Boston, MA, among others. She is a current resident at Pioneer Works, NY and has had residencies and fellowships at The Bronx Museum; The Shanghai Institute of Visual Art; The Saas-Fee Summer Institute of Art, European Graduate School, Switzerland; I:O at the Helikon Art Center in Turkey; Vermont Studio Center; and The Pasadena Side Street Projects, CA. She holds a BFA in sculpture from Biola University and an MFA in sculpture from Rhode Island School of Design and has taught at New York University, The Stevens Institute of Technology, The Shanghai Institute of Visual Art and is currently a professor at Bard College in Studio Arts.
Lauren Enright
is the Founder and CEO of Axiom Climate, a water risks company focused on data mapping, risk analysis and ESG factors in water risks for Fortune 500 companies, non-governmental organizations and small governments. Her water research has led her to working on water / nuclear / security projects for the Center for Climate & Security and the Hoover Institution at Stanford University. Lauren spent the last 8 years working for Control Risks, an international risk analyst firm as a Security Consultant based in Los Angeles. Her main responsibilities included managing protective global tasks for US and international clients, security and threat assessments. Lauren's projects have led her to support clients across the United States, United Arab Emirates, Panama, Ecuador, Colombia, and England. She has experience in running Hostile Environmental and First Aid Training (HEFAT) courses for clients which is where she gained her close protection agent certification. Lauren holds a BA in political studies and art history from Gordon College in Massachusetts and a MA in International Relations and Maritime Security from Regents' University in London.
To hear a clip from Maggie and Lauren's discussion with the Women & Covid-19 summer course, head to @BardCCE on Instagram! And check out the sources below to connect with them and their work!
Instagram
Further Learning:
Bard Connects: Faculty and Staff Get Creative to Provide Protective Gear to Regional Health Workers
and
the original GoFundMe fundraiser
.
Post Date:
07-22-2020