Hannah Arendt Center at Bard College Hosts 14th Annual International Conference on "Rage and Reason: Democracy Under the Tyranny of Social Media," October 13–14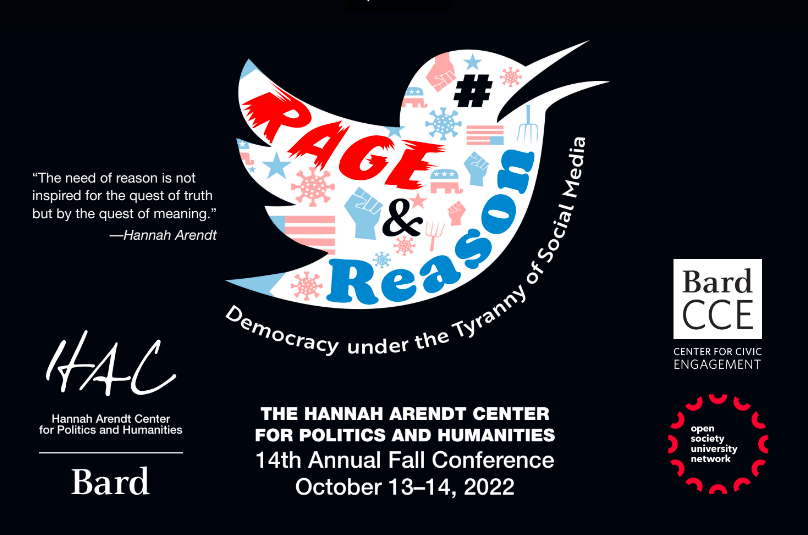 Hannah Arendt saw that in the face of hypocritical quasi-rational structures of power, rage can often appear to be "the only way to set the scales of justice right again." The real source of rage, Arendt understood, is a sense of powerlessness born of "a much deeper hatred of bourgeois society." Rage can seem righteous just as today rage against immigrants, white people, and experts is justified by those crusaders who argue that in an unjust and hypocritical system, rage is necessary for radical political change. Such collective rage may inspire virtues of courage, loyalty, and meaning; but the virtues of rage come at a cost: It is the disintegration of the common sense and common viewpoints that unites us beyond our political, racial, class, and sexual identities. We are witnessing, once again, the retreat of reason and the return of rage as a key driver of political and social relations. At a moment when materially comfortable societies are teetering and the visceral attraction of tribalism is rising all around us, we must ask how our liberal democracies can survive and thrive amidst intensifying partisanship and the decline of public reason. While social media is not to blame for the rage that is ravishing our society, the algorithms that drive social media do allow emotional and angry opinions to spread with unprecedented vigor and vitality.
Presented by OSUN, Hannah Arendt Center, and Center for Civic Engagement, the
Hannah Arendt Center Conference "Rage and Reason"
responds to the undeniable fact that rage and emotions are increasingly a force in our political and cultural lives. The conference asks: How can democratic rage be harnessed in social and political movements? Is rage essential to call out systemic and ingrained injustice? How can a politics of rage acknowledge rational and expert authority? If humans are tribal beings, how can they live in multicultural liberal societies? Are experts and elites themselves simply one tribe defending their self-interests? Must social media contribute to the fracturing of society into raging tribes? Is there a common interest in society knowable through reason? Above all, how can we uphold our liberal institutions and our common world in the midst of the polarization and fracturing of that world?
The two-day conference takes place on
Thursday, October 13 and Friday, October 14 in Olin Hall, on Bard's Annandale-on-Hudson campus
. Register
here
.
ALL registrants are REQUIRED to upload proof of vaccination and booster. The full conference will be available via Live Webcast. During registration, you will be asked to choose between attending in-person or virtually via the live webcast. In-person attendees will also receive the link to the live webcast. Online registration will close on Monday, September 26, 2022.
Featured speakers include:
Roger Berkowitz
, Founder and Academic Director of the Hannah Arendt Center at Bard College;
Leon Botstein
, President of Bard College since 1975, where he is also the Leon Levy Professor in the Arts and Humanities;
Myisha Cherry
, Assistant Professor of Philosophy at the University of California, Riverside;
Mike Cosper
, writer and podcast producer, and the Senior Director of Podcasts at
Christianity Today
;
William Davies
, Professor of Political Economy at Goldsmiths, University of London;
Nicholas Dunn
, Klemens von Klemperer Postdoctoral Fellow at the Hannah Arendt Center for Politics and Humanities at Bard College;
Frances Haugen
, advocate for accountability and transparency in social media;
Catherine Holland
, Director of Political Analysis at the Center for Social Computation;
Mie Inouye
, Assistant Professor of political theory at Bard College;
Jamil Jan Kochai,
Afghan writer;
Pankaj Mishra
, author of
Age of Anger: A History of the Present
(2017) among numerous other works;
Uday Singh Mehta
, Distinguished Professor of Political Science at the CUNY Graduate Center and the 2022 Yehuda Elkana Fellow (awarded by Central European University and the Hannah Arendt Center at Bard College);
Suzanne Nossel
, Chief Executive Officer at PEN America and author of
Dare to Speak: Defending Free Speech for All
;
Colin Megill
, cofounder of pol.is and President of The Computational Democracy Project;
Dylan Sparks
, Bard student majoring in Global and International Studies;
Allison Stanger
, Russell Leng '60 Professor of International Politics and Economics at Middlebury College; and
Thomas Chatterton Williams
, author of
Losing My Cool and Self-Portrait in Black and White
.
Arendt Center conferences are attended by nearly a thousand people and reach an international audience via live webcast. Past speakers have included maverick inventor Ray Kurzweil; whistleblower Edward Snowden; irreverent journalist Christopher Hitchens; businessman Hunter Lewis; authors Teju Cole, Zadie Smith, Masha Gessen, and Claudia Rankine;
Wall Street Journal
columnist Walter Russell Mead; and political activist and presidential candidate Ralph Nader. Previous conferences have explored citizenship and disobedience, crises of democracy, the intellectual roots of the economic crisis, the future of humanity in an age increasingly dominated by technology, the crisis in American education, and American exceptionalism.
Post Date:
09-13-2022