Mariel Fiori, Managing Editor of La Voz, Delivers a Message of Solidarity at Walk 4 Black Lives event in Kingston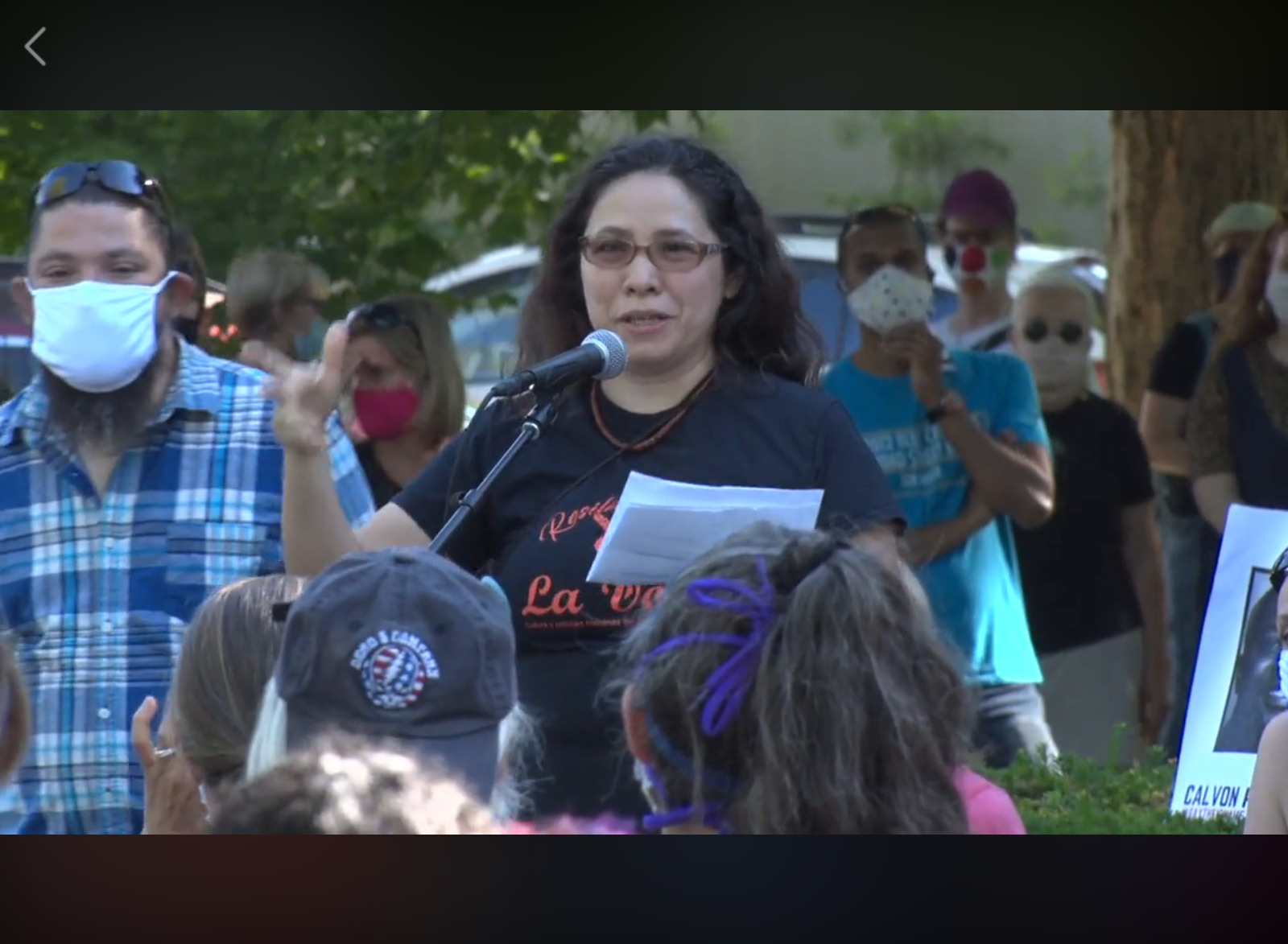 Mariel Fiori spoke in front of 1,000 people at the second annual walk in Kingston. Read the transcript of her speech in English and Spanish below or watch the video
here
. Read about the event in the Daily Freeman
here
.
Hello, my name is Mariel Fiori and I am here to give a MESSAGE OF SOLIDARITY
Racism is no stranger to our community. For more than 500 years they have wanted to erase us. 500 years of oppression that we no longer want. It is time to decolonize our minds. We say enough is enough.
For me, and for many Latinex, your fight is my fight
I am grateful and full of respect for this community that continues to fight for the respect due to all human beings, regardless of skin color, legal status or sexual orientation.
Your struggle is our struggle.
Divide and conquer, they say. Better to be well informed, and read, knowledge is power.
Well, here I tell you that those who want to divide us need to know that:
The people united will never be defeated.
I am here because I believe that silence is complicit, silence kills, and not only George Floyd, and so many African American and Afro-Latino brothers.
That is why we protest, because we want a system change now. The status quo no longer serves us.
This is a time of healing. We are already seeing results, there are some concrete things to celebrate, but the fight continues.
Who harvested your food today?
Why are there still children caged in detention centers paid with our tax dollars?
Why are there police in schools?
Why give military equipment to the police?
And speaking of the police, how about abolishing ICE?
The pandemic left us thinking, it is time to get down to business.
No justice, no peace.
Sí se puede
SPANISH
Hola, soy Mariel Fiori y vine a dar un MENSAJE DE SOLIDARIDAD
El racismo no es ajeno a nuestra comunidad. Por más de 500 años nos han querido borrar. 500 años de opresión que ya no queremos. Es hora de decolonizar nuestra mente. Decimos basta con ustedes.
Para mi, y para muchos latinx, tu lucha es mi lucha
Me siento agradecida y llena de respeto por esta comunidad que sigue luchando por el respeto debido a todos los seres humanos, sin importer color de piel, estatus legal u orientación sexual.
Su lucha es nuestra lucha.
Divide y reinarás, dicen. Mejor informarse, leer, conocimiento es poder.
Pues acá les digo que los que quieran dividirnos tienen que saber que:
el pueblo unido jamas será vencido.
Estoy acá porque creo que el silencio es cómplice, el silencio mata, y no solo a George Floyd, y tantos hermanos afroamericanos y afrolatinos.
Por eso protestamos, porque queremos un cambio de Sistema ya. El status quo ya no nos sirve, a nadie.
Este es un momento de sanación. Ya estamos viendo resultados, algunas cosas concretas para celebrar, poero la lucha sigue.
¿Quién recogió tu comida de hoy?
¿Por qué hay todavía niños enjaulados en centros de detención pagados con el dinero de nuestros impuestos?
¿Por qué hay policías en las escuelas?
¿Para qué darle equipo militar a la policía?
Y hablando de la policía ¿qué tal si abolimos ICE?
La pandemia nos dejó pensando, es hora de ponernos manos a la obra.
Sin justicia, no hay paz.
La lucha sigue
Sí se puede, Sí se puede
Post Date:
06-18-2020