Portrait of the Art Box Artist: Daniel Baxter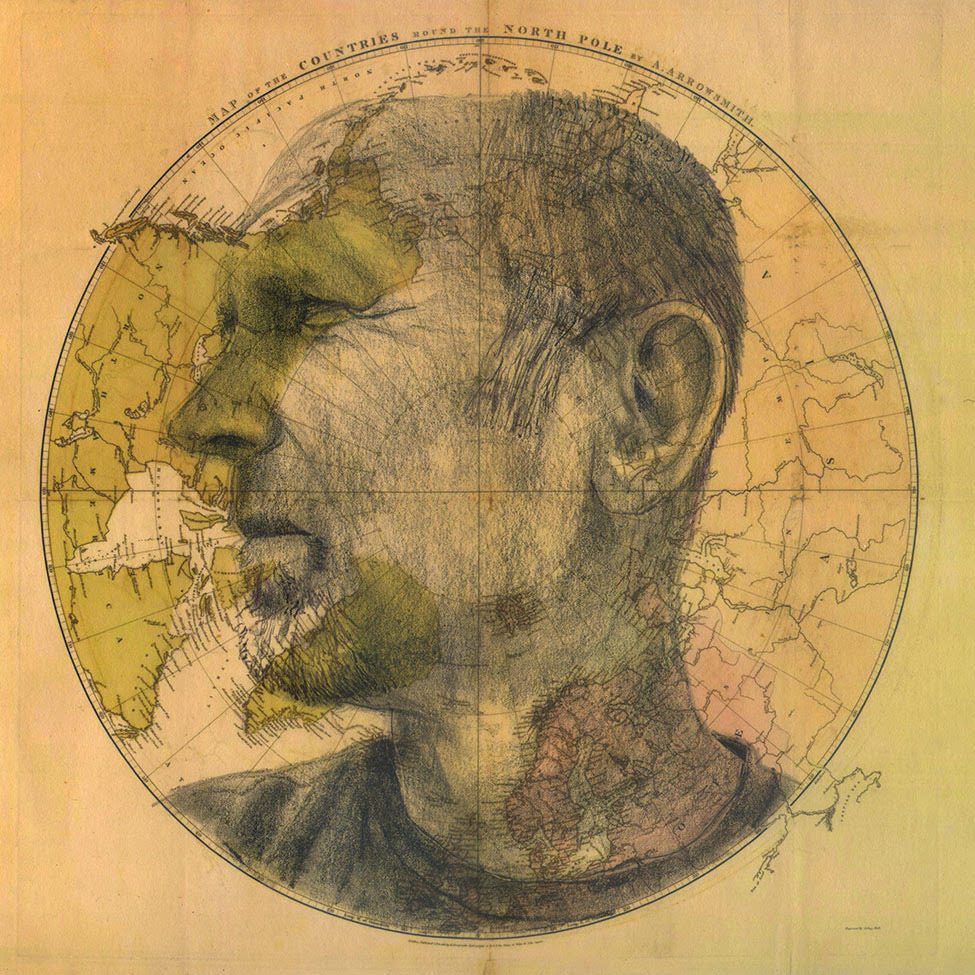 By Sam Wheeler '26
Daniel Baxter sat across an empty chair at Taste Budd's Café. It was late fall in upstate New York; the leaves were red, along with the nose of every child without a coat. I sleepily stumbled into the café, scanning for Baxter as quickly as my slow eyes could. He flagged me down immediately and we began our conversation.
I lead, asking him where he's from. You could look beyond his eyes and see the gears turning. "Buffalo" he responded, but didn't linger. He told me of his interest in illustration and drawing, how that took him to Parsons School of Design, and "by some miracle" he was able to make a living as an illustrator, his work published in the
New York Times
, the
Wall Street Journal
, creating book covers and diagrams in textbooks. He told me that he moved to Red Hook to start a family.
Our conversation took many twists and turns, from his experience at Parsons to Kurt Cobain to the Civil Rights movement to our shared love of maps. Baxter is well known for his portraits of important figures projected onto maps of significance to the subject.
"There's a story behind every piece of land and place," Baxter explained. "It's funny because they say art is a way to talk about the world and maps are a way to literally jump all around the world. If there's someone I really, really admire I will do them … if I can just latch onto something that's admirable about them, I can draw them over a map."
I asked him about his drawing of Bard President Dr. Leon Botstein over a district map of Red Hook.
"He's one of the figures in Red Hook that's done so much for the community," Baxter said.
Baxter is one of four local artists that have created art installations around Red Hook in recent months as part of the Art Box Project. The rotating installations are meant to express sustainability resolutions and proclamations, part of the town's efforts to become an
Audubon Certified Sustainable Community
. His particular work was unveiled recently near Holy Cow Ice Cream, an iconic location in Red Hook.
"I'm a bit of a quiet person, a bit of an introvert, and I've never done something so public before," Baxter said. "So that was really cool to be able to speak to the community without actually having to talk," he added with a smile.
Halfway through the interview, Baxter gifted me several postcards of his artwork, including illustrations of Buffalo on a map of Wyoming and John Lewis over Alabama. Baxter points to history as a big part of his inspiration.
Regarding Baxter's inspiration on the John Lewis portrait, he said, "I love his story; he was involved with all the civil rights stuff and the day he walked across the Edmund Pettus Bridge and was beaten by the National Guardsmen that was the day I was born, and that kind of stuck in my mind. I'm always inspired by people like that who really try to make a difference in the world."
Baxter went on to joke, "I think I get inspired more by books and history more than other artists," which is reflected in his large catalog of important political figures, musicians, and thinkers put onto maps.
We finished our conversation talking about music.
"What I suffer from more than anything is anxiety, and hearing people process anxiety through music is like a catharsis, in a way," he said. "I like a lot of really sad indie rock kind of stuff, Nick Cave, the National, PJ Harvey. My girlfriend always makes fun of me because I'm always listening to sad music. But I'm not like a sad person at all. I think it sort of helps you—"
"Understand the world," we concluded in unison.
---
Daniel Baxter is part of an upcoming show titled "Sea Change, See Change" at
Mattatuck Museum
in Waterbury, Connecticut, in 2024.
Post Date:
11-08-2023