Q&A with Al-Quds Bard Student Christina Anastas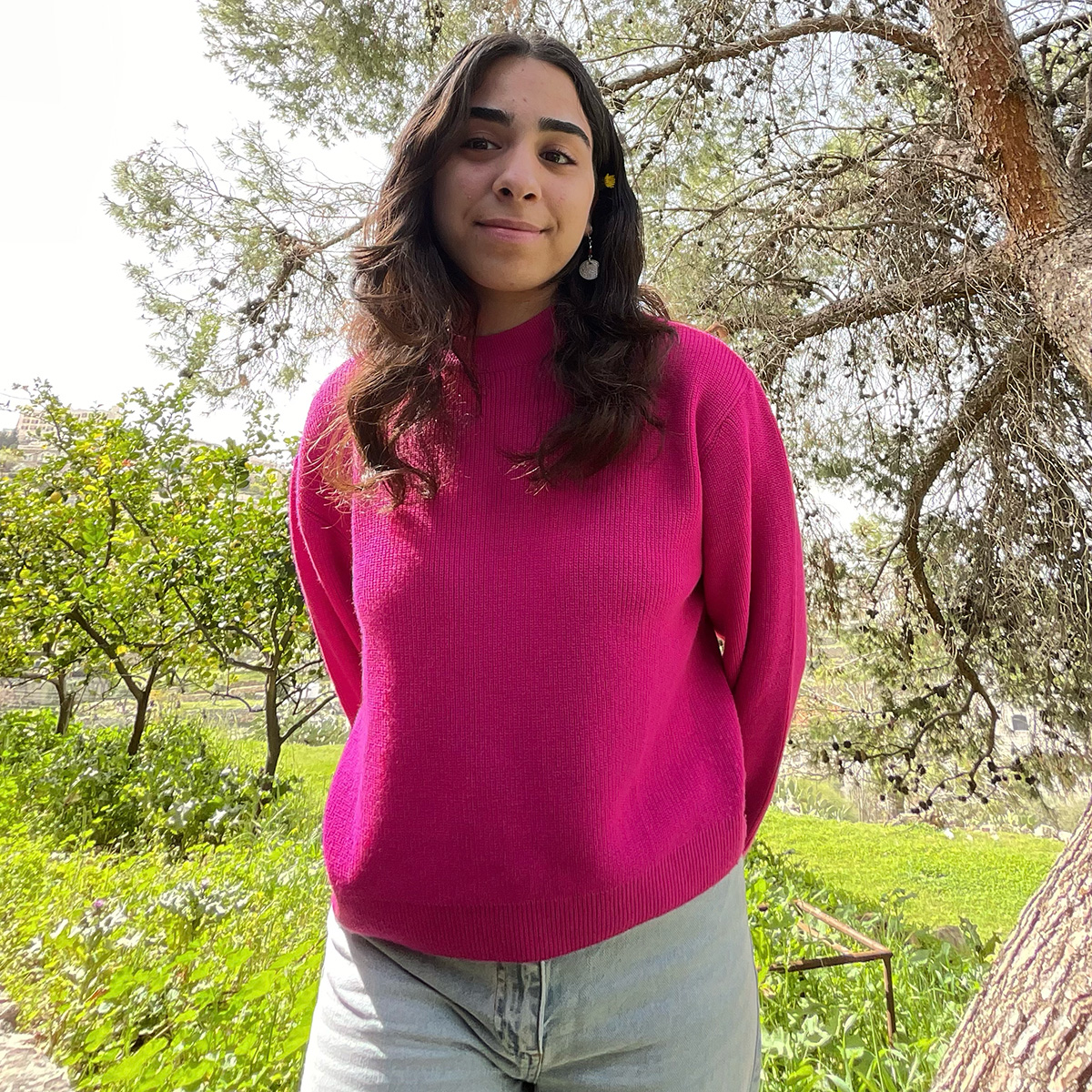 By Lauren Rodgers '27
Q: Tell us a bit about yourself and your background.A:
My name is Christina Anastas and I'm a student and musician from Palestine. I'm a third-year undergraduate student majoring in molecular biology and genetics at Al-Quds Bard College in East Jerusalem. I'm the founder and the leader of Melodies for Palestine, a project I started during my first semester of college on campus as a safe space for university students to express themselves in the middle of difficult circumstances. I'm a trombonist as well, and I'm pursuing a diploma in trombone performance at the Edward Said National Conservatory of Music. I'm currently an OSUN Global Engagement Fellow and I have represented my initiative at the 2022 OSUN Get Engaged Conference, which was held in Kyrgyzstan.
Q. What led you to Al-Quds Bard College for Arts and Sciences?
A:
I was drawn to AQB by coincidence. It was not really my first option back then. I was confused and having a hard time deciding which college to apply to, but I came upon an advertisement for AQB, and after reading about it, I realized it was the ideal option—I felt it. Having come from Bethlehem, I had never been to the town of Abu Dis in East Jerusalem before, but I found it different yet unique on my first visit. I was interested in the college's focus on interdisciplinary courses and critical thinking. The supportive faculty at AQB, and the fact that AQB, along with more than 30 institutions worldwide, is an OSUN member was a great fit for me because I'm passionate about taking part in and interacting with various opportunities and events that would help me to develop and grow as a student.
Q: Could you give us an update on what's happening in the Al-Quds campus?
A:
On the morning of the 7th of October, the whole Al-Quds University educational system was switched online. This decision was made suddenly and no one was prepared. Education is currently conducted through Zoom since neither staff nor students are able to reach the university campus due to the current situation and Israel violence against Gaza. These days, we no longer feel safe traveling to university because of the tense circumstances and the numerous armed Israeli settlers who appear to be everywhere between roads on our way to college. Even the campus of our university was not safe before then. Israeli forces used to occasionally break in, throwing poisonous tear gas bombs and shooting live bullets at students. And now that it is considerably worse, we are unable to attend our class on campus, afraid that it would turn into a battlefield.
Q: Have the recent events affected your studies?
A:
Although the Gaza Strip is where the current violence is mostly held, the West Bank is also affected. It is not like what the Western media portrays as "a war between Hamas and Israel." It's not a war when one side has all the power and the other none, when the power is asymmetrical. It's not a war when one has been stealing the lands of the other for more than 75 years. It is not a war when one is murdering more than 300 people each day. There is no Hamas presence in the West Bank, yet colonial violence is present there. Having to wake up and sleep to the heartbreaking and tragic news of death and the destruction of houses and families has made studying extremely difficult in the middle of all this bloodshed. It is never easy to hear the loss of an innocent child's life and carry on as if nothing had happened. It's traumatic. We feel overwhelmed, helpless and sometimes hopeless as students, because when these massacres are carried out, not just those who were killed die, but every Palestinian also dies. I personally lack the drive and focus to continue our online education when others are being brutally murdered and denied an education. The students and I have gone on strikes in solidarity with Gaza declaring that life and education cannot continue normally when Gazans are being wiped off.
Q: Tell us about the music initiative you've founded.
A:
Melodies for Palestine is a project that has been established as a creative venue that encourages the use of music as a form of artistic expression and raises awareness of its importance in Palestine. It acts as a gateway to assist children and university students in that it seeks to make music education accessible to every Palestinian child, regardless of where they live or their financial background. The solution involves creating a space where local musicians can volunteer to give music lessons, and then students can attend and get free music lessons, where we spread awareness about music and its importance. Also, we would hold workshops onsite in marginalized zones, including public schools, orphanages, and places where children are suffering from trauma.
Q: What inspired you to start this initiative?
A:
What motivated me to start this change is the fact that people in Palestine enjoy music, but do not have an opportunity to access it everywhere. It all began in college, where I gave a classical performance in the AQB graduation ceremony. I was concerned that the audience may not enjoy the performance, but I was definitely mistaken. Everyone went silent as I began to play, and they all listened to the music with respect and appreciation. The atmosphere was filled with peace, compassion, and warmth. Overall, it is my passion to help those who don't have the capacity to express their emotions, as well as children who have experienced trauma in their lives, living under the constant threat of hate and violence stemming from settler colonialism.
Q: To you, what is the power of music, and how can it be used to create change?
A:
Music is a universal language that connects people's hearts and souls. Everyone feels the same while listening to music, regardless of their language, country, or culture. Each one of us has a favorite song that holds a special place in our hearts, that may be connected to a certain memory or person, or that makes us want to dance or makes us want to cry. It is on many occasions where music feels a bit deeper, a little more than just music. For me, I believe that the action of making music, especially in Palestine, strengthens our commitment to our rights and enriches our steadfastness. It also provides a nonviolent means of expressing oneself and protecting the land against occupation. Most of us use music to express ourselves and our circumstances. For example, lying in bed at night recalling how innocent children were murdered and are still being murdered because of the aggression on Gaza. Remembering every Palestinian child, woman, and man who suffered from the brutality of the occupation would urge us to listen to deep and sad music that could consolidate us. We listen to music that emphasizes our daily struggles. In this way, lives might be dramatically changed by the therapeutic benefits of music, and workshops that focus on music education would help Palestinians become the best versions of productive members of the society. Any musician will tell you that one of the things that distinguish music is its power to bring us closer to ourselves and to others. That is the power of music. Music allows us to connect with our own feelings as well as the people we care about.
Q: As both a genetics student and musician, do you have any tips on balancing your educational priorities with your priorities in activism?
A:
I strive to gain knowledge because knowledge is power—however, without action, it is all useless. As both a musician and a student, I put much effort into not just working on scientific research, but also demonstrating to the world the love and devotion I have for my identity, sculpting my own story of power and resilience. Studying biology courses has allowed me to gain a profound understanding of the significance of environmental sustainability and has motivated me to strive to protect our planet's natural resources. Not only this, but it has grown in me to cling to my own identity to help my society. My long-term goal is to use genetic research to improve the quality of life for Palestinian societies. Children in Palestine are among the most vulnerable members of society, at risk of experiencing trauma, displacement, and oppression. Consequently, since civic engagement is intended to solve societal problems with significant impact, it can assist in influencing Palestine's future—specifically roads of change, transformation, and impact. In light of this, my love of science transcends the borders of the laboratory, by understanding how interconnected science is to global concerns. Making music is the key to bringing about this change, and therefore combining my musical skills with my genetics studies would fulfill my passion for helping those who suffer.
Q: What inspired you to study genetics and music?
A:
At the age of ten, I started my journey as a musician, entirely by coincidence. It all happened after watching a magnificent orchestra performance on TV that influenced me to learn music, but it happened that I picked the trombone as an instrument by coincidence as well. I didn't even know its name. It took me a month to memorize what we call it! But it was never a bad choice! It has allowed me to become a better version of myself and shaped who I am today. My life would not be the same without music. Also, I had a strong interest in discovering how genes relate to a variety of human endeavors, including music. I have always believed that studying genetics would allow me to gain insight into the origins and principles of existence and provide answers to many of the questions that humans face.
Q: What does it mean to you to be an active member of your community?
A:
Though I don't believe words can truly express how it feels to be a change agent, I do believe it has shaped who I am today; it has empowered my existence. It is an opportunity that allows me to demonstrate my skills and academic capabilities as a student from Palestine, revealing my dedication to facing misconceptions, showcasing the persistence and will of Palestinian youth who are motivated to confront oppression and injustices, and want to contribute to change in this world. It really means a lot for me to realize how my voice as a Palestinian woman has the power to affect the world, beginning with people, university colleagues, and eventually communities.
Post Date:
11-10-2023