Bard Students Exceed National Voting Rate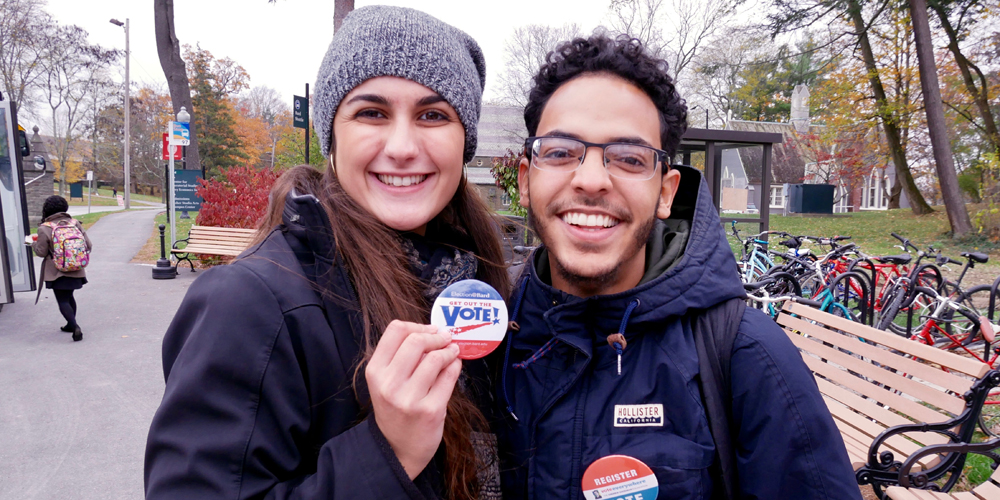 The Institute for Higher Education and Democracy has released their 2019 report, Democracy Counts 2018: Increased Student and Institutional Engagement. According to the report, mid-term election voting rates at US colleges and universities more than doubled from 19% to 40%. Bard College students, however, voted at a significantly higher rate of 47.2%.
The report contains findings from the National Study of Learning, Voting, and Engagement, an ongoing examination of student voting on U.S. college campuses. More than 1,000 public and private institutions participated in the study. Bard College was among them. In her introduction to the report, Institute director Nancy Thomas made the following comments:
"In recent years, we have seen a shift in institutional commitment by leaders and faculty away from apolitical civic learning and toward learning for the health and future of democracy, a task that is inherently political….More faculty across disciplines are talking with students about policy issues relating to their field and reminding students of their responsibilities to register and to vote...[I]nstitutions are shifting from elections as episodic flashpoints to embracing political learning, discussion, and equity as year-round educational objectives for all students."
Indeed, Bard College exemplifies this shift, hosting student-led initiatives like
Election@Bard
that actively encourage and facilitate campus and community electoral participation - driving voting registration and voter information, providing transportation to polling places, hosting watch parties, advocating for accessible polling, and fighting for voting rights.
To reinforce and expand student awareness of local and national elections, CCE coordinates Engaged Liberal Arts and Sciences Courses; a robust offering of classes across departments that incorporate voting information, discussions about citizenship, and other forms of community engagement into extant curricula.
Visit
Election@Bard
to see how the team provides important information to students about upcoming elections. To read Democracy Counts 2018 in its entirety,
click here
.
Post Date:
10-30-2019