ELAS Students Assist Senior Citizens with Digital Literacy Program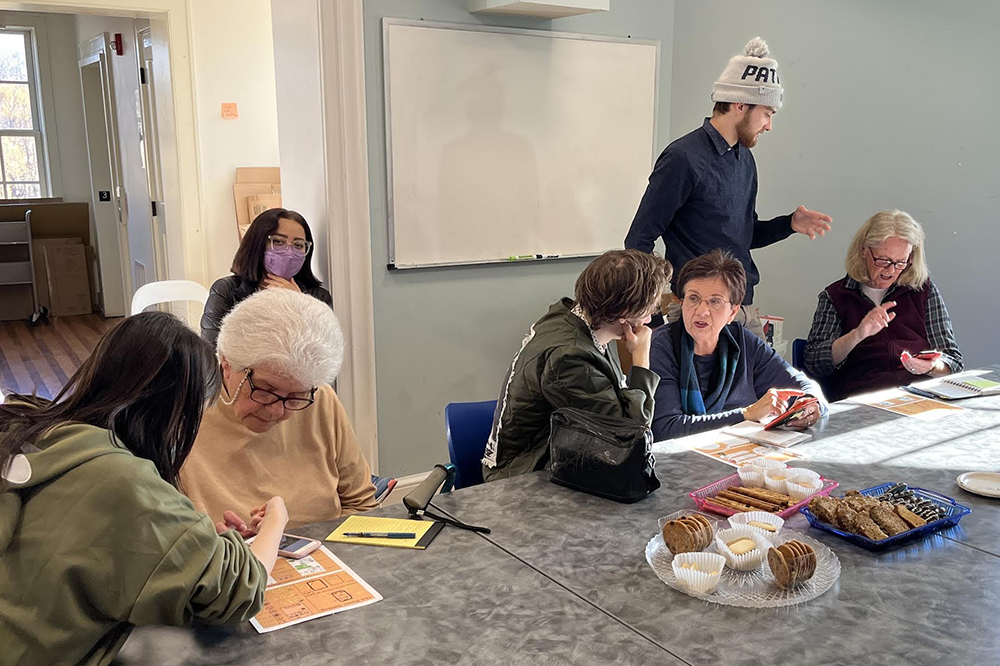 This semester the Digital Literacies course brought Bard students to the Red Hook Public Library to host an information session for senior citizens on how to safely make the most of their cellphones. Supported by CCE's Engaged Liberal Arts and Sciences (
ELAS
) program, the course, taught by faculty member
Jeremy Hall
, allowed students to apply technical methods and tools for cellphone use, information screening, and data security for seniors.
Renee Zhang
, Head of Programs and Services for Adults at the Red Hook Public Library, said "We received very positive feedback from our community participants. One senior citizen told me after the program that she and her friend found the information helpful, and they enjoyed socializing with the students. It was great to see connections building between the residents of Red Hook and Bard students."
In addition to the information session, students also branched out into smaller groups for one-on-one interactions to help attendees with specific questions, and to socialize about their experiences at Bard and in the community. According to student
Jourdan Perez
, "I would say that perhaps more important than the technological support that the seniors received from us was the chance for connection between younger and older adults. It's much easier for everyone involved in an event when participants feel engaged with not only the subject, but with the hosts as well."
ELAS-designated courses, such as Digital Literacies, emphasize the importance of applying classroom theories to practical application, as well as reciprocity among community partners through sustained engagement and the development of skills that benefit students' own interests. After the workshop, students said they were eager to return to the library for more opportunities to participate and attendees were just as eager to see more Bard students again.
"I really enjoyed the work we did with the Red Hook Public Library," said student
Emma Kuntz
. "Not only did we get to engage in the community, but we were able to engage with each other and brainstorm. I think something like this could become a monthly or biweekly thing as participants all seemed really interested in having us back. Knowing that what we worked on benefited others was really rewarding, and I hope to get more opportunities like this in the future!" she reflected.
Post Date:
12-11-2022